Convirza is a well-known technology that connects call tracking, marketing automation, and integrations for call marketing optimization. Phone calls can be efficiently tracked, recorded, and evaluated. You may evaluate the campaign's progress while boosting phone conversations, team coaching, and customer service.
For call tracing, Convirza offers a variety of vanity, toll-free, and local phone numbers. Vanity numbers enable you to raise the amount of inbound calls by up to 30%. Toll-free numbers come in three varieties: 888, 877, and 866. Convirza also offers local numbers in practically all area codes to support your business. If you want to keep your present number, you can migrate it to Convirza for a seamless transition.
Convirza.com: Price Score
A tracking numbers function costs $3.00, local minutes cost $0.07, and text messages cost $0.14 in the cheapest Starter subscription, which costs $19. Companies would be better off joining up for Professional or Agency packages, which cost $99 and $199 monthly, if they want access to more sophisticated services like white-glove onboarding, a qualified support team, or API.
| | | | | | |
| --- | --- | --- | --- | --- | --- |
| Top call tracking solutions | Calltracking metrics | VS | Callrail | VS | Convirza |
| Inbound Call(per minute) | $0.27 | VS | $0.05 | VS | X |
| Outbound Call(per minute) | $0.29 | VS | $0.05 | VS | X |
| Phone Number(per line) | $1.50 | VS | $3.00 | VS | X |
| Voicemail(per minute) | $0.002 | VS | $0.003 | VS | X |
| Min price(per month) | $39.00 | VS | $45.00 | VS | $19 |
Convirza.com: Meta Rating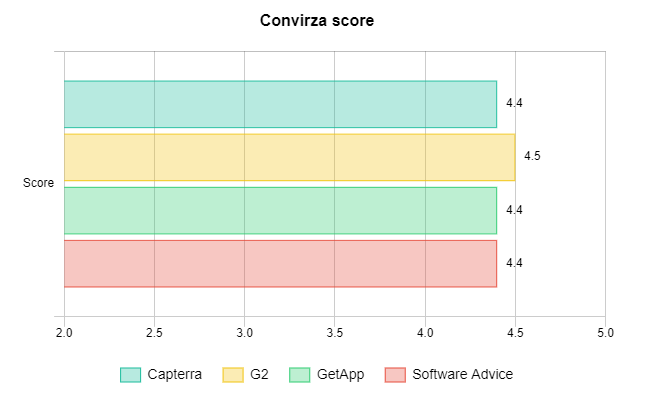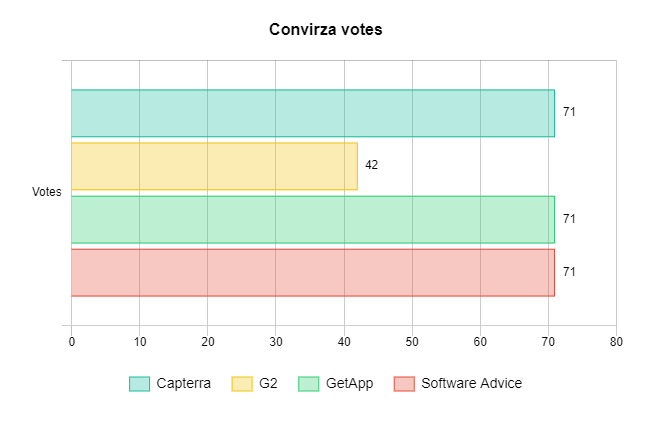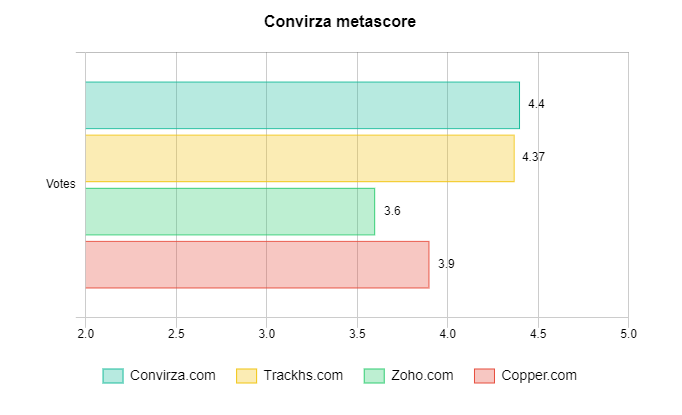 Many people already have confidence in Convirza. With 11 years of experience, it already has eight worldwide data centers and more than 600 global customers. It has received numerous honors, including The Cloud-Based Solution of The Year. Visit the organization's website to find out more.
Convirza.com: Features and Integrations
Teams can use Convirza's capabilities to study how certain marketing and sales initiatives function in order to sooner direct marketing expenditures away from unsuccessful programs and toward effective campaigns. A complete image of each visitor, lead, and customer is produced by Convirza's integrations with platforms like Google Analytics, DoubleClick, Salesforce, and others.
Instant Retrieval
Archiving
Distributed Call Recording
Keyword Tracking
On-Demand Recording
IVR / Voice Recognition
Event Triggered Recording
File Transfer
The real-time call recording, transcription, and analysis capabilities of the conversation analytics feature give agents immediate access to information about what is happening during discussions. The platform uses call indicator analysis and pre-built, sophisticated voice recognition technology to precisely assess conversions, lead quality, and your team's phone skills.
DoubleClick
Google Ads
WordPress
Zapier
Google Analytics
Slack
Acquisio
Domo
Convirza.com: Market Share and Growth Trends
Currently, Convirza provides services to 389 businesses, 90% of which are based in the US and 10% in Canada. These businesses cover a variety of sectors, including the automotive, construction, healthcare, hospital, consumer services, and medical profession.
Convirza has a market share of around 0.3% in the software industry for call tracking. Other notable and competitive products in this category include CallRail, Marchex, and VisualVisitor.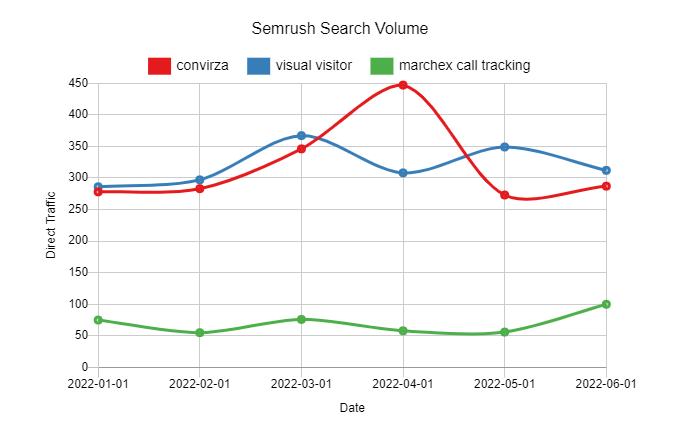 Convirza.com: Similar Solutions
Convirza allows you to track a customer's journey from the initial click through conversion and everything in between. By using intuitive call reporting, you can create reports that are both user-friendly and extremely insightful. Many pieces of information are available to improve the leads and hasten their trip thanks to call recording and caller information. The most recent information on the lead will be provided in brief notifications sent through email or text message prior to, during, and after calls.
Should you track calls?
According to BIA/Kelsey, the call tracking market is currently worth $68 billion. (Source) It is used to track the sources, keywords, and campaigns that lead to phone calls and has become commonplace among marketers. Some of the biggest businesses in the world utilize call tracking to assess the success of their SEO initiatives, PPC campaigns, and retargeting plans. These businesses are utilizing this extremely useful data to boost the effectiveness of their campaigns and increase marketing ROI. Data from phone tracking is also used by marketing firms. It is widely utilized by firms that specialize in SEO and PPC marketing and efficiently conveys their value to customers.
How Does Call Tracking Work?
You select distinctive phone numbers to utilize in your marketing. Convirza provides vanity numbers, real 800 numbers, toll-free numbers, and local phone numbers. These can be fixed numbers that you utilize in local, regional, or direct mail advertisements. OR, you may use dynamic number insertion to create numbers that you can use on your website. (This usage is the most typical.) As usual, the call comes into your place of business. Only now, you can go on to the Convirza Platform to discover which campaigns, advertising, and keywords resulted in calls and which ones didn't.
Can I keep my current number if I use call tracking?
Yes. Your phone numbers can be transferred to our call-tracking system. In essence, any of your phone numbers can be used to log calls. Your telephone numbers are always yours. They are not owned by either the call tracking service or the telephone carrier. Your data belongs to you. Therefore, you are free to "transfer" them to anybody you like.
Does call tracking improve lead quality?
Sales growth is not always correlated with an increase in leads. Marketers can identify the channels that are generating high-quality phone calls from those that aren't by using call tracking. This indicates that their marketing spending will be concentrated on the platforms that will help them achieve their lead generating objectives. 1) Start using call tracking Include call tracking phone numbers in your marketing materials and website. 2) Monitor Leads Your call tracking platform will display the precise amount of calls that each advertising channel is producing once you have installed the phone numbers. 3) Examine Conversion Rates With Convirza, you can not only see how many calls each advertising channel is producing but also learn the precise conversion rate for each of them. 4) Increase Marketing Budget You will now be able to see EXACTLY which marketing channels are generating calls that are also converting. Now that the process of increasing high-quality leads has been made simpler, conversion rates could increase extremely quickly.
How is call tracking different from Conversation Analytics®️?
Convirza's flagship product, Conversation Analytics®, is used to examine call content. To extract information from phone calls, Conversation Analytics® uses thousands of patented algorithms and natural language voice recognition technology. Call data is generated from recorded phone conversations using natural language speech recognition. The sophisticated program can identify words, word patterns, and even mashups of patterns and sentences. Call data is transformed into knowledge and actions by Convirza. bulleya It's comprehensive call analytics. Here are a few KPIs that will help you close more deals with Conversation Analytics®. Contrarily, call monitoring just informs marketers of which advertising, campaigns, and keywords lead to calls. It's a very helpful tool. However, when the phone rings, the data collection ceases. What transpires during the call is not tracked. Analytics for conversation does. Call tracking and Conversation Analytics® are both available from Convirza.
Should I use DNI call tracking with my PPC campaign?
It is easy and effective to use call tracking to collect call metrics from PPC ads. Marketers can program a different phone number to appear on a landing page for each of their PPC ads using Dynamic Number Insertion (DNI). This implies that depending on the PPC ad that a user clicked on, the phone number they see when they land on a landing page may differ. It is possible to track the campaigns, keywords, and ad groups that are generating phone calls thanks to the various phone numbers. It is feasible to optimize both your marketing approach and budget by using call monitoring data to separate the PPC campaigns that are successful from those that are not. As soon as you integrate call monitoring DNI into your PPC campaigns, you can start enhancing the ROI of your advertising and their efficacy right away.
Does Call Tracking Hurt SEO?
No, it doesn't if you utilize it properly. Some local search specialists believe that call tracking has a negative reputation since it has been abused by many phone tracking providers, local search agencies, and SMBs for years. On directory listings, Google+ Local, or other listing websites, call tracking should not be used. Websites should handle it using dynamic number insertion. The Authoritative Guide to Phone Tracking and Local SEO is our whitepaper on SEO and call tracking if you'd want to learn more about it. It has the most thorough study of the topic. We have generously borrowed from both sides of the argument before selecting the most important and practical points. You may also view our webinar, which features the top 7 DNI tactics for SEO support. All of your assumptions about Call Tracking, DNI, and SEO will be dispelled by this webinar. Short version: When utilized properly, call tracking does not harm SEO.