Pros
Well-written documentation
Charges only for the used resources
Multiple options for countries outside of USA
Cons
No 2-way messaging system
Very complex to set up
High pricing per SMS
Complicated admin interface
Technical skills needed for customization
Lack of features
Twilio is at the forefront of international communications, providing an innovative way for businesses to reach out to customers through all forms of digital media. With offices in 17 countries, they're continuing to grow and have already achieved a level of success with clients such as BMW, Sprint and McDonald's.
It has a powerful API and can make daily tasks easier for phone companies. It gives people the opportunity to grow their customer base and establish better relations with customers.
Twilio has gained a lot of popularity in the last couple of years. They boast over 5 million developers worldwide, with about 200,000 companies either currently or previously using their products. Whether you're striving to interact better with customers, enhance customer experience or all-around improve your company's communications.
1. Twilio.com: price score. Find the best price
Contrary to other VOIP providers, Twilio uses the Pay-as-you-go pricing model. This allows clients to only pay for services they use and might be more convenient, transparent, and affordable in the long run.
| | | | | | |
| --- | --- | --- | --- | --- | --- |
| Top call tracking solutions | Twilio | VS | Callrail | VS | Phonexa |
| Inbound Call(per minute) | $0.08 | VS | $0.05 | VS | $0.03 |
| Outbound Call(per minute) | $0.01 | VS | $0.05 | VS | $0.03 |
| Phone Number(per line) | $1.00 | VS | $3.00 | VS | $1.50 |
| Voicemail(per minute) | $0.002 | VS | $0.003 | VS | $0.001 |
| Min price(per month) | $0.01 | VS | $45.00 | VS | $100.00 |
Customers are attracted to the fact that they don't have to sign a contract or commit to long-term relations. They only pay for the volume of they use, so it's easy and simple to track your budget without going over.
2. Twilio.com: meta rating. Check what people say about Twilio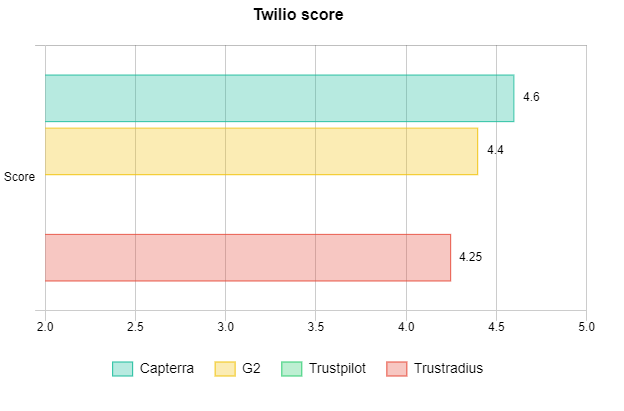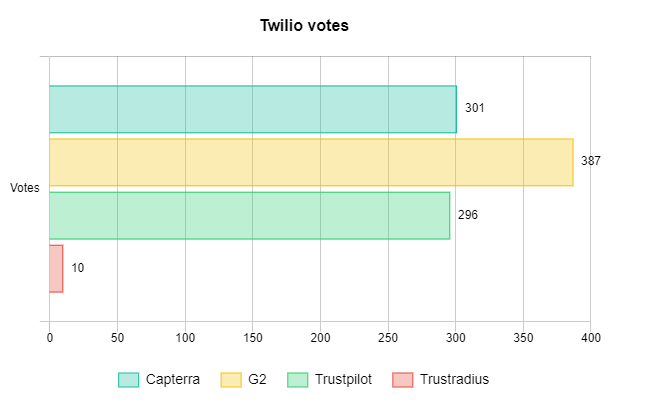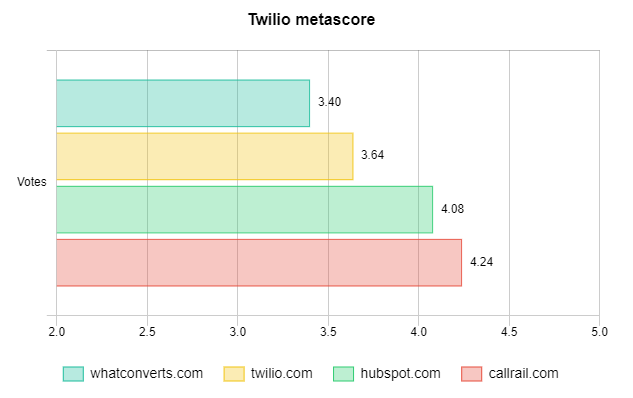 Twilio has been highly recommended by customers who have used the product for their business. It ranks between 4.25 and 4.4 by research sites Trustradius, G2 and Capterra. This is a great sign of what the service is like and how high-quality its product is. Even with Callrail, HubSpot and Whatconverts established players in the space, Twilio still secured 2nd place.
3. Twilio.com: features and integrations
One of the reasons Twilio is so popular is because they offer a wide range of features that are designed specifically for businesses in different sectors. Whether you're in the financial, retail, hospitality or health care industry, there's a Twilio package for you. Global enterprises, both large and small companies, seemingly always find ways to adopt the newest technologies and squeeze just as much efficiency as possible out of them.
This is a new developer platform that has so much potential. Messages and calls can be programmed to receive, monitor and respond via voice. TRUST Solutions can help in a wide range of objectives not only for businesses but also for individuals in various professions globally. Other cool features include: Email automation template optimization, HTML editing, A/B testing, CTR analytics and multi-device testing.
Twilio's API has been integrated with more than 2,000 popular apps. This means you can automate many everyday tasks and spend less time working and more time doing what's important–no coding skills required!
4. Twilio.com: market share and growth trends
Understanding cloud software might be a complicated thing to do and requires caution. Some companies have been at it for just a short bit, which makes some hesitant to use it. Twilio is a pack of services that offers some relief from the complication by making it easy to implement. We have created more than 200 diverse products and services, and new ones are the core of our business. We are constantly inventing and bringing it to life – with such a broad range of components, platforms and solutions, Twilio is going strong.
5. Twilio.com: similar solutions
Developers from all over the world are using Twilio to give their customers a better experience. The API integrations it has can help unify diverse communication channels to use both iOS, SMS and Web Push messages. Twilio offers a range of powerful tools to personalize their approach to every customer. Every member of the team can edit themes control UI elements in a way that suits them, enabling you to quickly smoothly deploy flawless messages. What's more, Twilio provides virtual numbers as well as registration-free phone numbers for quick deployment of expensive media campaigns.
How can my App receive calls?
You must configure your push certificate in the Console in order to receive incoming calls, and your app must register for incoming calls using voice. register(…). Through FCM, Twilio will deliver a high-priority push notification to you (Firebase Cloud Messaging Service). For an example of how it is done, see our quickstart implementation. Google discontinued GCM (Google Cloud Messaging Service) on April 10, 2018. If you are currently utilizing GCM, switch to FCM as soon as possible. At this moment, GCM concerns are not supported.
Can the App receive incoming VoIP calls while it's not running or in the background?
Yes! See How do I register my app to accept calls so that I may answer them? Once the app is registered, it will continue to receive push alerts for incoming calls even while it is closed or in the background.
What's the difference between an Access Token and a Device Token?
To use Twilio's services, you need an Access Token. A token known as a device token identifies the device that will be receiving a push notification.
Twilio call tracking review FAQ
What is pros and cons of Twilio call tracking review
Twilio call tracking review Pros:
Well-written documentation
Charges only for the used resources
Multiple options for countries outside of USA
Twilio call tracking review Cons:
No 2-way messaging system
Very complex to set up
High pricing per SMS
Complicated admin interface
Technical skills needed for customization
Lack of features
What is average rating of Twilio call tracking review
Average rating is 4 based on next metrics: Customer service: 4, Customer support: 4, Lead attribution: 4, Tracking numbers: 4