Pros
Tons of integrations
Ability to rank and sort the calls
Cons
Confusing for the beginner
A bit pricy
Homepgae setup is not robust enough
Terrible customer service
With the help of Funnel Science, your online business will have no problem creating and improving high-quality sales funnels.
Alex Fender, one of the world's leading digital marketing consultants, coined the term "Funnel Science" in 2009 after developing a technique that employs science and software to manage, test and monitor customer behavior. By using a conversion tracking program, you can measure how it affects these aspects: conversion rate, sales closure ratio, revenue and profitability. You can also determine the time it took your customer to make a purchase. Funnel Science is based on machine learning, data mining and pattern recognition to analyze customer behavior.
Now Funnel Science is providing assistance for conversion optimization, Google AdWords pay-per-click management, Google Analytics support and sales funnel advice to thousands of top brands, full service marketing agencies and SEO firms in the US. The company offers an A/B testing service for agencies, conversion rate optimization for agencies, and marketing & sales analytics for marketing companies.
1. Funnel Science: price score. Find the best price
Funnel Science has a basic pricing plan starting at only $99. The service includes:
All-In-One Conversion Tracking
Full-Featured CRM
Call Tracking, recording, transcription
Call Sentiment Analysis
Call Requests
SMS Text Messages
Email Templates/Responders
Live Chat
Lead Capture Forms
1 Marketing & 1 Sales User
Other plans will be $500 and if you want to see how they work, ask for a demo on the official website.
| | | | | | |
| --- | --- | --- | --- | --- | --- |
| Top call tracking solutions | Infinity | VS | Callrail | VS | Funnel Science |
| Inbound Call(per minute) | $0.2 | VS | $0.05 | VS | x |
| Outbound Call(per minute) | $0.2 | VS | $0.05 | VS | x |
| Phone Number(per line) | $5.00 | VS | $3.00 | VS | x |
| Voicemail(per minute) | $0.002 | VS | $0.003 | VS | x |
| Min price(per month) | $199.00 | VS | $45.00 | VS | $99 |
2. Funnel Science: meta rating. Check what people say about Funnel Science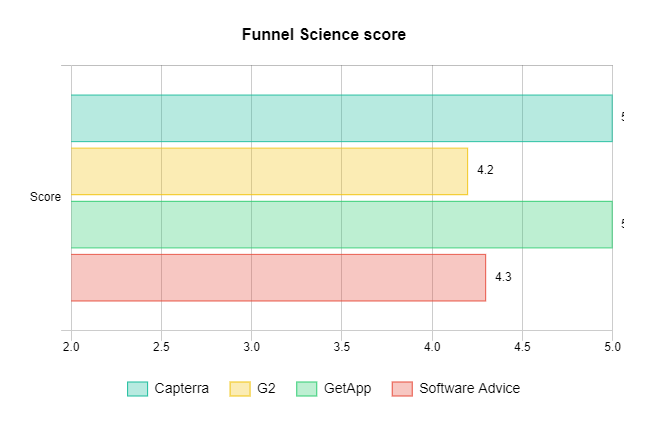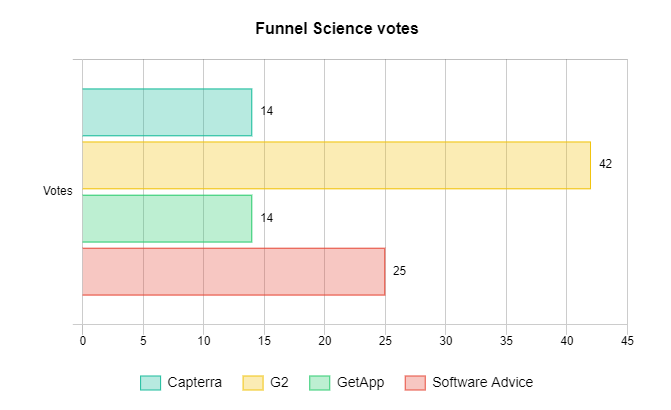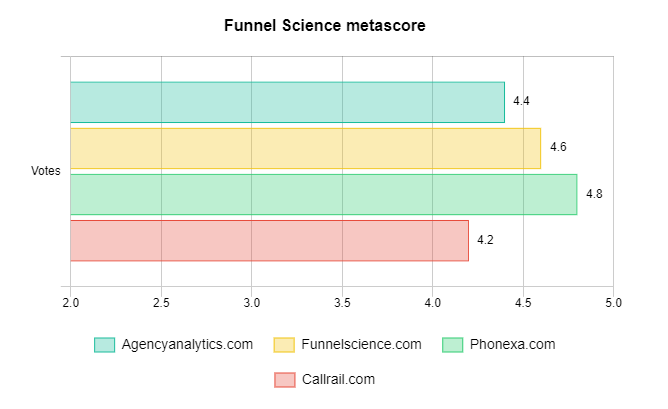 Funnel Science is not the current leader in this field, but they are making their way up. Capterra, GetApp and G2 have already rated them 5/5 stars, and Software Advice has awarded them 4 out of 5.
3. Funnel Science: features and integrations
Funnel Science is a great helper when it comes to tracking all sales funnel changes. They are a really efficient way of keeping track on what's going on in the entire pipeline. This powerful solution will allow your business to grow rapidly – with combined sales and marketing features, as well as extensive reporting features. You can do it all right here in one place.
Funnel Science is based on data-driven strategies and using this approach, the company wants to streamline marketing & sales activities and improve every client's experience. AI is an essential part of our work. It's identifying the exact aspects that make people buy (advertising, campaigns, emails, content) and make sure we're investing in marketing channels that are right for us.
4. Funnel Science: market share and growth trends
Funnel Science is active in 37 countries around the world. While this number might not be too impressive on its own, it's important to keep in mind that focused businesses choose quality over quantity
Funnel Science is being used by different industries for their business intelligence needs. The top three industries using Funnel Science are bankruptcy, commercial real estate, and conversion rate optimization.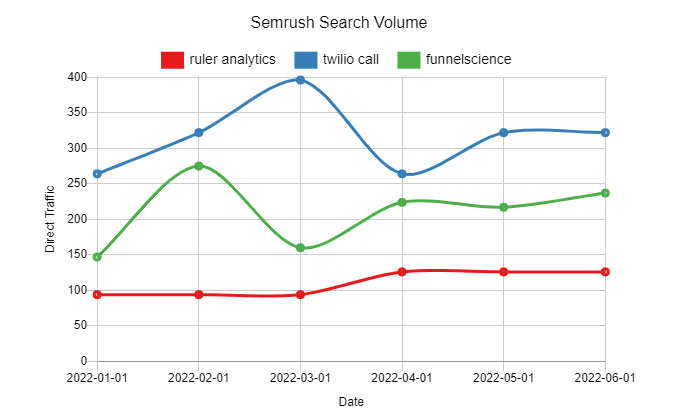 5. Funnel Science: similar solutions
Funnel Science is a company that builds sales funnels by using AI. This saves sellers a lot of time and effort, and it helps find what influencers work in the behavior of the buyer. IN YEARS OF RESEARCH, WE DEVELOPED MACHINE LEARNING ALGORITHMS TO HELP OUR CLIENTS INCREASE THEIR SALES BY UP TO 500%.
Funnel Science call tracking review FAQ
What is pros and cons of Funnel Science call tracking review
Funnel Science call tracking review Pros:
Tons of integrations
Ability to rank and sort the calls
Funnel Science call tracking review Cons:
Confusing for the beginner
A bit pricy
Homepgae setup is not robust enough
Terrible customer service
What is average rating of Funnel Science call tracking review
Average rating is 4.25 based on next metrics: Customer service: 4, Customer support: 4, Lead attribution: 5, Tracking numbers: 4