Pros
Easy to set up new campaign
Extremely customizable dashboard
Simple to navigate through menus
Commission visibility
Cons
Reporting process could be improved
Lacks consistent user training
Price is higher than average
Invoca is the most widely used call tracking software for marketers because it's simple to use and can solve complicated marketing problems. It provides analytics on inbound calls and conversations, allowing you to better understand your audiences.
For over 14 years, the company has ranked as the top call tracking platform on G2 Crowd. They have also been awarded other top prizes and have gained customers' trust in various industries. The company's most notable customers are Samsung, SunTrust, AutoNation, Spectrum, Rogers and other
Invoca has helped many businesses become more profitable by providing an incomparable marketing service, and we want to do the same for you. Its platform integrates with many of today's best digital marketing, sales, and analytics programs. There are affordable premium packages, 24/7 professional support, and even a free trial version.
1.Invoca.com: price score. Find the best price
If you prioritize excellent phone calls for your customers, then Invoca may be the perfect tweak for your customer strategy.Invoca is used by a diverse range of industries ranging from insurance to travel, with many other industries in between.
| | | | | | |
| --- | --- | --- | --- | --- | --- |
| Top call tracking solutions | Invoca | VS | Callrail | VS | Phonexa |
| Inbound Call(per minute) | x | VS | $0.05 | VS | $0.03 |
| Outbound Call(per minute) | x | VS | $0.05 | VS | $0.03 |
| Phone Number(per line) | x | VS | $3.00 | VS | $1.50 |
| Voicemail(per minute) | x | VS | $0.03 | VS | $0.01 |
| Min price(per month) | $1.00 | VS | $45.00 | VS | $100.00 |
Invoca's pricing and payment structure is different but the benefits it provides are worth the cost. They have a long list of devoted clients who are willing to pay the annual license price in addition to the cost of each minute call. Pricing plans and costs vary based on how much traffic you need. The price may be as high as $500 per month
2. Invoca.com: meta rating. Check what people say about Invoca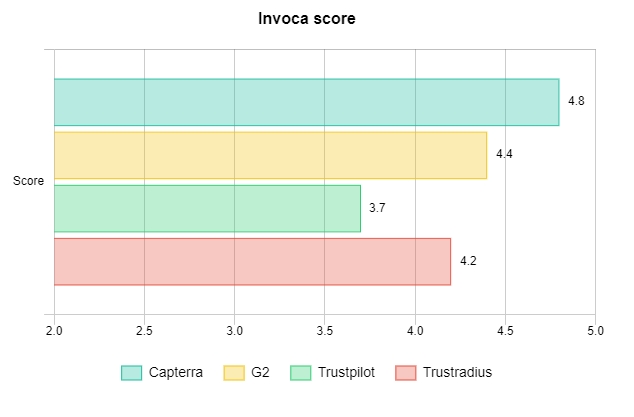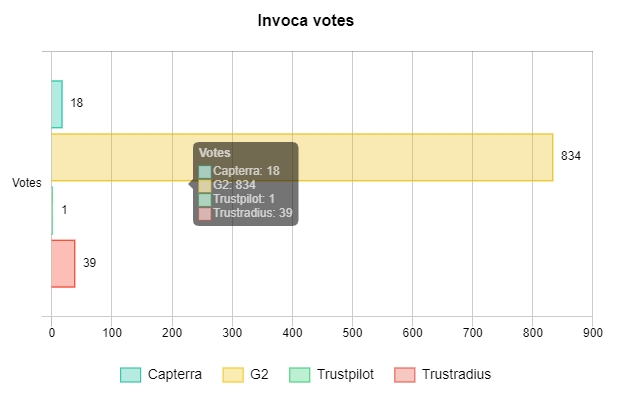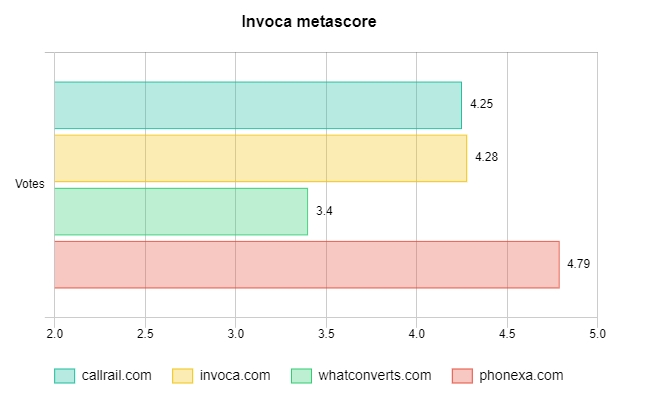 There has been a surge in upcall centers around the world in recent years. Thanks to its range of flexible, scalable solutions, companies can now outsource their calldistribution operations so that their staff can focus more on improving their main product or service. A call center shows the level of service and customer satisfaction a business strives to achieve. Invoca is a phone call marketing service that helps businesses connect with their customers in a genuine and personalized manner. There's been a remarkable growth in the demand for its call tracking software in recent years, with their product now covering more than 337 million calls. This achievement has helped them to boost both their meta rating and customer trust.
3. Invoca.com: features and integrations
Invoca is filled to the brim with helpful features. Call tracking, call classification, caller identification, and data security – those are just a few of the many benefits Invoca provides. Top it off with their AI powered technology for managing customer calls and written forms and you've got yourself one stellar. A personalized approach to your customers will make them feel more valued
Having AI assistants in your business, you can interact with your customers and provide real-time support from the very beginning of their journey to their first purchase. Whether they like music or want to order a pizza- Invoca tracks the conversation, pays attention to what they like and dislike, and helps the team build up deep customer knowledge that will help them make smarter business decisions.
Invoca collects, stores and analyzes every kind of interaction your customers have with your company. It combines these interactions on one dashboard so that marketers can get a sense of what's happening without having to click from page to page. What it gives you is an overview – big picture stuff – which allows you to understand customer behaviour as well as predict their next steps with more accuracy. New business strategies can align with new ways of marketing and grow your business
4. Invoca.com: market share and growth trends
Initially, Invoca focussed solely on call tracking. It helped agencies monitor the performance of their employees and help them run their call centers better. But as technology keeps evolving, it became apparent that Invoca's services could be useful to a much wider audience. Invoca's solutions allow you to become an expert in revenue generation so your business can see a boost in its profits.
Invoca is integrated into every aspect of buying from connecting to the customer and their experience, improving sales through in-depth knowledge of exactly who a customer is. Call tracking is one example of this, making Invoca one of the top call tracking providers in the industry. Invoca is building on the momentum from this year in what remains a volatile market.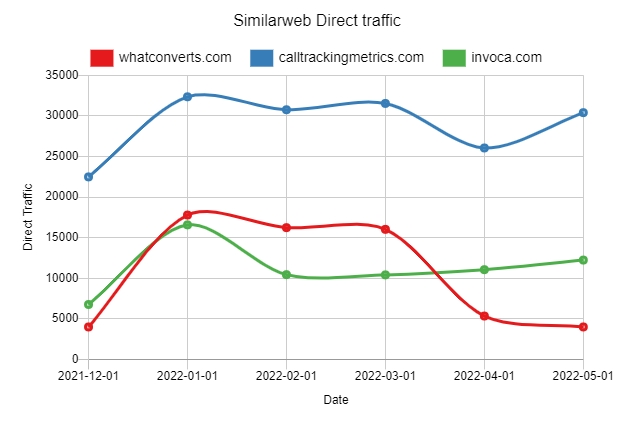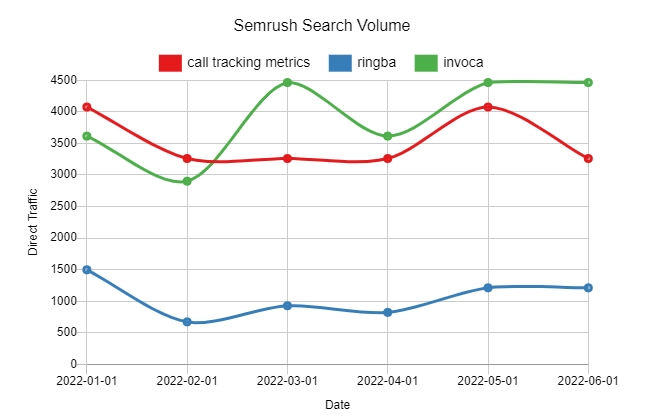 5.Invoca.com: similar solutions
Invoca is proud of its innovative features, that set it apart from other call tracking software companies. Their dedication to their clients, cutting-edge solutions, and a professional approach in every possible way are just some of the many things that make Invoca superior to others. Invoca, unlike many other companies, has expanded to Europe in order to be able to offer our outstanding services to international corporations.
What information is captured when I track calls?
When thinking about purchasing a call tracking and conversation intelligence system, this is a crucial question to ask. To determine whether it genuinely has the ability to affect the bottom line, you must be aware of the depth of knowledge and data that is conceivable. The simple answer is that advanced conversation intelligence solutions can track pretty much whatever you desire, enabling you to always be aware of how your marketing initiatives are influencing engagement both online and offline. Typical data points are: Google Click ID (gclid) or another sponsored search parameter for a marketing campaign Conversation intelligence also contains useful details about the caller and the landing page from which the call was made. You are conscious of: place of the caller calling time Call date and time verses a fresh call Important demographic information This information is intended to provide you a complete picture of your clients and their buying processes.
Can I see conversation data in my other analytics and data management systems?
You very certainly can. Verify the solutions you are considering for conversation intelligence have seamless interfaces with the other components of your marketing technology stack. Your CRM, marketing automation, bid management, web analytics, data management platform, and other marketing technologies should be able to push your call analytics information. With a complete omnichannel view of your customer's route to buy, you can see your call statistics exactly where you need them and in relation to your other digital marketing data.
How will conversation intelligence impact my marketing decisions?
An integral component of any omnichannel marketing approach is conversation intelligence. You won't get the entire picture if you're simply considering the digital aspect of the customer experience when those customers make a phone call. A complete picture enables you to make more informed marketing choices that will increase calls and, eventually, income. You can use the insights provided by Invoca to: Optimize keyword bids for paid searches. Boost call volume from successful landing pages Utilize caller data to enhance ad targeting Spend more money where it will generate more high-value calls. personalize the client experience both online and offline. Just the top of the iceberg, really. All of your digital analytics will gain a strong new layer of data thanks to conversation intelligence.
How do I make sure the contact center doesn't get overwhelmed with junk calls?
You don't want to overburden your contact center with calls that are of poor quality and a waste of everyone's time because not all calls are created equally. A call can be qualified before it enters your sales floor or contact center thanks to the unique filtering and routing tools included in advanced call analytics platforms. You can filter calls based on caller responses to personalized voice prompts or route calls based on specific criteria like day or time. Additionally, spam calls, robo dialers, and toll-free traffic pumping frauds can be stopped by conversation intelligence platforms like Invoca. These activities cost the call center money and take time away from serving legitimate clients.
Invoca call tracking review FAQ
What is pros and cons of Invoca call tracking review
Invoca call tracking review Pros:
Easy to set up new campaign
Extremely customizable dashboard
Simple to navigate through menus
Commission visibility
Invoca call tracking review Cons:
Reporting process could be improved
Lacks consistent user training
Price is higher than average
What is average rating of Invoca call tracking review
Average rating is 4.75 based on next metrics: Customer service: 5, Customer support: 5, Lead attribution: 4, Tracking numbers: 5