Pros
The easiest interface and most user-friendly portal
Robust feature list
Very efficient onboarding was
Cons
Some features that should be added
Some tickets take a little long to take care of
In the time we are living in, change is the only constant. Vonage is embracing it too and considers it a key component of their philosophy. Initially, when they started this company, their focus was to provide VoIP services to small and medium-sized businesses. The company has been working with some of the leading companies in the world to train and use their linguistic application for flexible and personalized communication.With over one million registered developers, Vonage has patented many inventions in the US and abroad. It also owns 236 patents in the States.
Vonage offers unified communications, contact centers and an API for everything in between. You can pick your favorite application from their selection or you might want to get them all! Vonage lets you create your own apps with a wide variety of integrations by choosing API's.
1. Vonage: price score. Find the best price
This is a package that includes everything you need for $19, including live support from 8am-5pm , an online knowledgebase, service status notifications, email and web chat. If you're interested in priority queueing, Vonage offers a "Priority package," that has the same features as a "Standard package" plus an assortment of perks like 24/7 customer care, chat support and more.
| | | | | | |
| --- | --- | --- | --- | --- | --- |
| Top call tracking solutions | Calltracking metrics | VS | Vonage | VS | Callrail |
| Inbound Call(per minute) | $0.27 | VS | x | VS | $0.05 |
| Outbound Call(per minute) | $0.29 | VS | x | VS | $0.05 |
| Phone Number(per line) | $1.50 | VS | x | VS | $3.00 |
| Voicemail(per minute) | $0.002 | VS | x | VS | $0.003 |
| Min price(per month) | $39.00 | VS | $19.99 | VS | $45.00 |
A lot of extras are included in other packages, which means the main package is really just the beginning. Along with a quarterly roadmap and professional support, customers also include best practices guidance and solutions management.
2. Vonage: meta rating. Check what people say about Vonage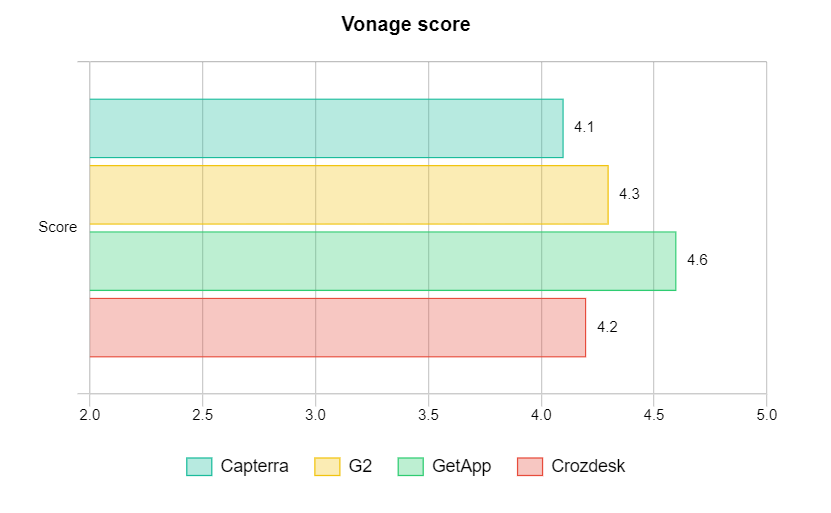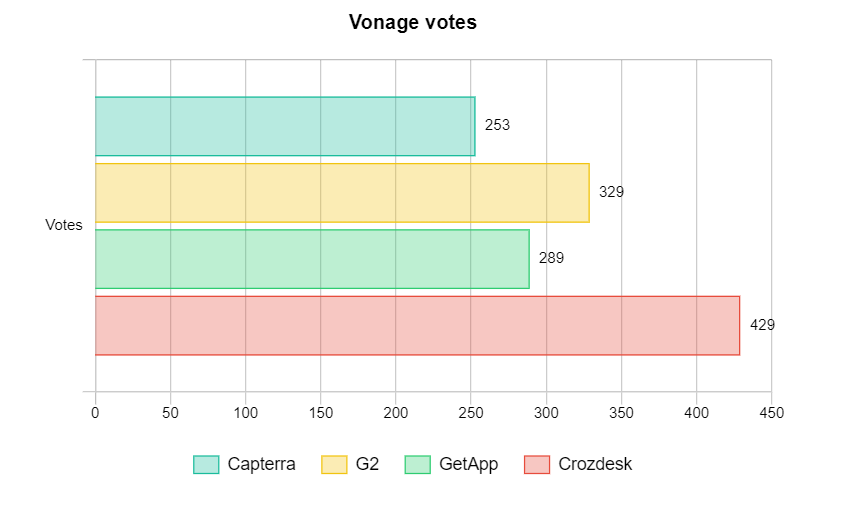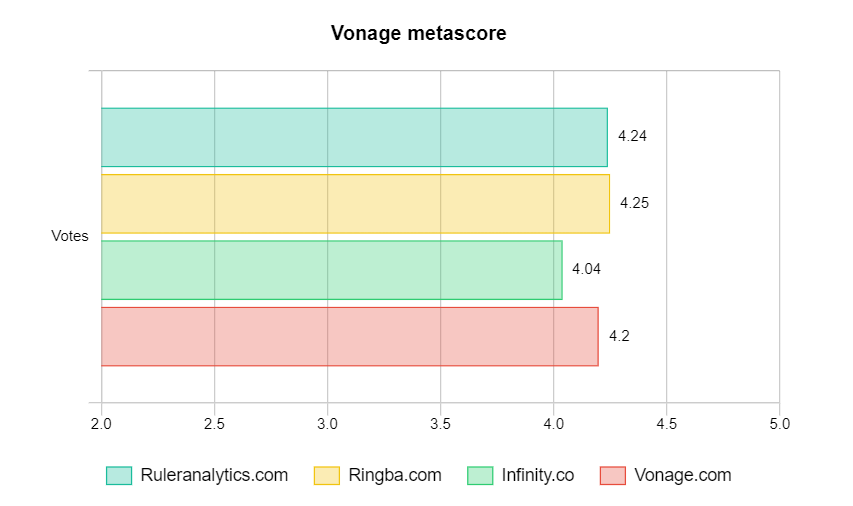 Vonage has been given 4.6 points by GetApp, 4.3 by G2, 4.2 by Crozdesk, and 4.1 by Capterra, ranking higher than its rivals Infinity.co and RulerAnalytics which have a rating of 3 points on average and giving it a chance to become the primary talk in the sector
3. Vonage: features and integrations
Vonage offers a wide range of services for convenient communications in different situations. These easily implemented and understandable tools take a small amount of time to set up and are highly customizable. Marketing and sales teams are always in touch and are able to exchange data/information quickly thanks to all those convenient tools. They're not the only ones, either – customers can communicate with employees too, because everything is connected through apps.
Vonage will allow you to connect your phone system to other software that you may currently be using, like CRM and productivity platforms. You should think about linking your cloud VoIP phone system to other business services – this'll help expand the functionality of your business. For example, people will be able to access information from anywhere at any time and you can help them along their customer journey for a better revenue boost.
4. Vonage: market share and growth trends
The market value for Vonage Holdings Corp. is $5.38 billion with earnings of approximately 2153rd in the world.
The financial report revealed by Vonage Holdings Corp. reveals that the company's revenue as of December 31, 2017 is $1.43 Billion, with a projection for 2020 at $1.24 Billion and for 2021 at $1.40 Billion. Vanage's current earnings (TTM) is currently $0.05 and in 2021 it was -$0.03, as well as in 2020 at -$0.04 B. Vanage's price-to-earnings ratio (TTM) is now -123.65 and in 2021 it was at -205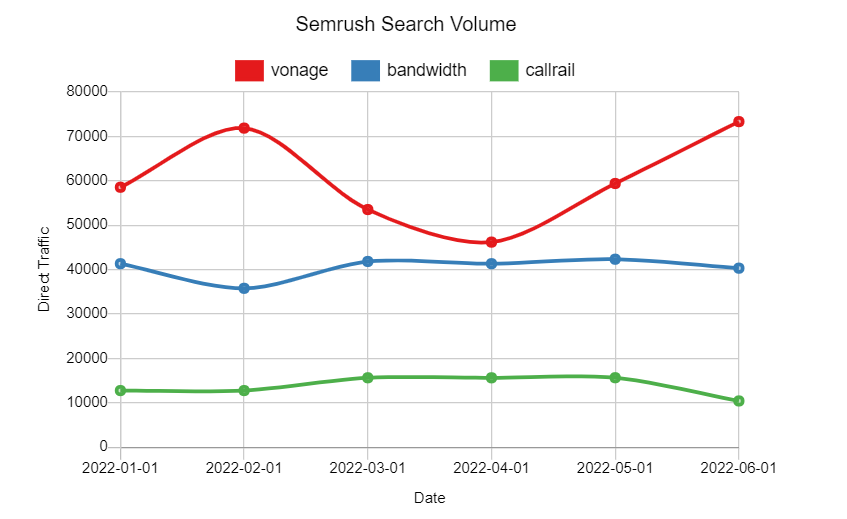 5. Vonage: similar solutions
By having a global presence, Vonage stays one step ahead of their competition. They work to create a company identity in the global arena for their international customers to easily communicate with them.
When was Vonage founded and where are Vonage's headquarters located?
The current address of Vonage's corporate headquarters is 23 Main Street in Holmdel, New Jersey 07733.
Does Vonage pay a dividend?
Currently, Vonage does not distribute dividends.
What is Vonage's main line of business?
Once again, Vonage is revolutionizing business communications. To assist businesses all across the world stay competitive, the company is making communications more flexible, intelligent, and personalized. Built on the most adaptable cloud communications platform in the world, Vonage offers unified communications, contact centers, and programmable communications APIs. In keeping with its history as a technology disruptor, the company strengthens its specialized capacity to meet the needs of businesses all around the world in terms of collaboration, communications, and experience.
Vonage call tracking review FAQ
What is pros and cons of Vonage call tracking review
Vonage call tracking review Pros:
The easiest interface and most user-friendly portal
Robust feature list
Very efficient onboarding was
Vonage call tracking review Cons:
Some features that should be added
Some tickets take a little long to take care of
What is average rating of Vonage call tracking review
Average rating is 4.5 based on next metrics: Customer service: 5, Customer support: 5, Lead attribution: 4, Tracking numbers: 4