Pros
Very professional customer support
Easy to kick off
Intuitive UX
Cons
Some of the metrics are not clickable
Very complex to set up
Requires definite knowledge of web dev
Hubspot is a name that has always interested me within the digital marketing sphere. I checked them out to see what it was about and discovered their blogs and educational courses all of which seem so promising. There are so many things to say, but one thing is for sure – HubSpot is something special.
HubSpot is a leading developer of software solutions, with a focus on inbound marketing, sales, and customer services. The company was founded in 2005 as just one piece of basic business software: an inbound marketing tool. HubSpot provides a multitude of other digital marketing tools in addition to website hosting, email marketing and social media. They are the perfect solution for any sales team.
1. HubSpot.com: price score. Find the best price
With only $23 a month, HubSpot offers its Starter plan with 1,000 marketing contacts included and free tools with increased limits. This means you can start using free tools like ad management, live chat, email marketing, forms and more to start getting your message across quickly. The package includes everything beginners need and plenty of useful features for advanced users.
| | | | | | |
| --- | --- | --- | --- | --- | --- |
| Top call tracking solutions | HubSpot | VS | Callrail | VS | Phonexa |
| Inbound Call(per minute) | x | VS | $0.05 | VS | $0.03 |
| Outbound Call(per minute) | x | VS | $0.05 | VS | $0.03 |
| Phone Number(per line) | x | VS | $3.00 | VS | $1.50 |
| Voicemail(per minute) | x | VS | $0.003 | VS | $0.001 |
| Min price(per month) | $23.00 | VS | $45.00 | VS | $100.00 |
Companies with greater call tracking needs can now choose between the Professional and Enterprise plans. These plans are designed to work with 2,000 and 10,000 clients respectively – they offer advanced reporting capabilities and brand management options.
2. HubSpot.com: meta rating. Check what people say about HubSpot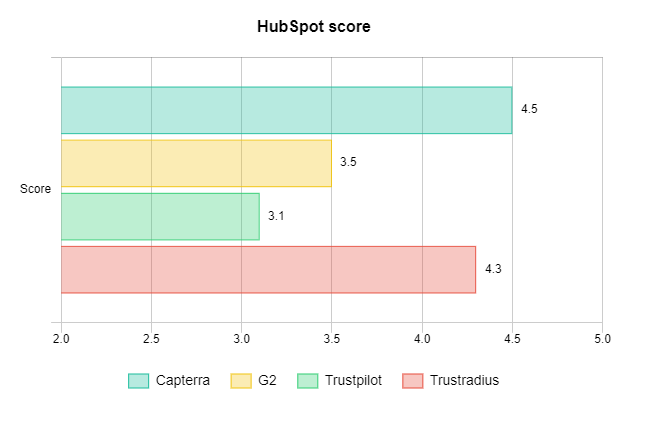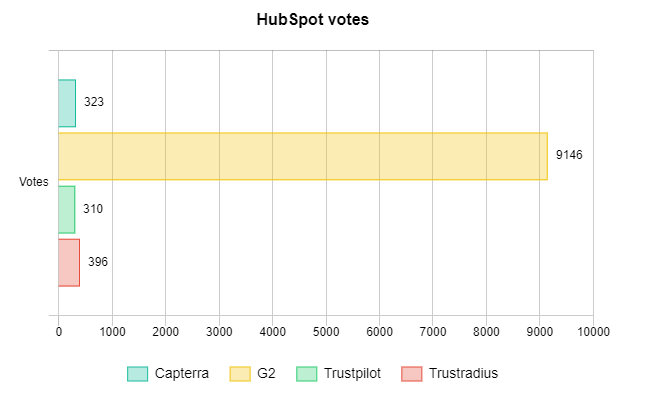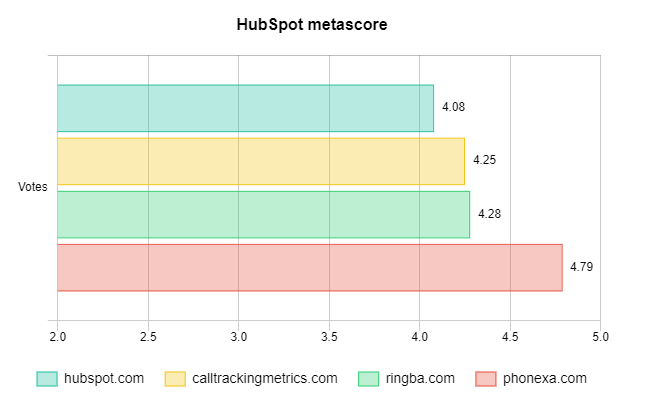 HubSpot CRM has been the preferred choice for many businesses globally, with the support of a strong following that ensures its position in the market is guaranteed. Reviews of the HubSpot call tracking platform on trusted sites like Capterra and Trustradius prove that it's a high quality service, earning ratings of 4.3 and 4.5 out of 5 respectively.
3. HubSpot.com: features and integrations
HubSpot CRM was originally created just as a marketing tool for SMBs, but now it can offer a good structure for any company. It segment your leads according to their needs and passes them further down to the sales team. HubSpot has developed quite a few different features in their platform. They can connect all of your customer campaigns and channels into one, making it easy to see what's happening on all platforms. They also provide a dashboard that anyone can see and access- perfect for teams who need to focus on more than one aspect at once.
It makes the lives of whole team much easier as they don't have to keep track of customer experiences manually. New team members will have the same access to the reports, with easy integration into the process.
The Chatbot Live & Chat feature will give the team a break while leads are taken care of. The 24/7 support ensures that nobody gets left hanging or treated badly. This allows sales to focus on what they are good at, engaging deals and closing them. And finally, HubSpot offers customer surveys to monitor your team's performance. They also include satisfaction ratings from past customers and the reviews will help improve your support service.
4. HubSpot.com: market share and growth trends
Considering all the challenging competitors they've faced and won over, HubSpot is a clear winner. They offer a really diverse range of tools. For example, call tracking is just one of their major features. So it's worth pointing out that when rivaling other companies like Infinity and WhatConverts, they do have significant weakness in their lack of understanding of specific industry trends.
Although what we saw on the charts is quite surprising. Given the turbulent nature of recent years and everything, HubSpot was still able to outpace Whatconverts and Infinity for the whole two months, which is a really incredible thing that they can do.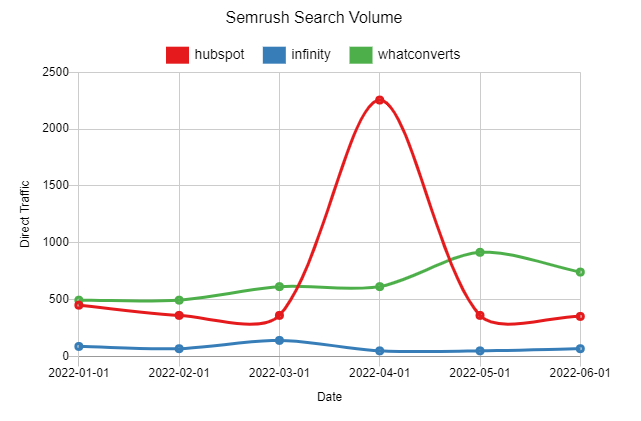 5. HubSpot.com: similar solutions
Generating more quality leads and improving customer journeys is a challenge that every company has been trying to address. Hubspot CRM could potentially provide you with the resources you need to accomplish this in a short time period. The platform has created a seamless and rapid way to implement your sales strategy while at the same time increasing conversions.
HubSpot call tracking review FAQ
What is pros and cons of HubSpot call tracking review
HubSpot call tracking review Pros:
Very professional customer support
Easy to kick off
Intuitive UX
HubSpot call tracking review Cons:
Some of the metrics are not clickable
Very complex to set up
Requires definite knowledge of web dev
What is average rating of HubSpot call tracking review
Average rating is 3.75 based on next metrics: Customer service: 4, Customer support: 3, Lead attribution: 4, Tracking numbers: 4