Pros
Easy to deploy
Knowledgeable and helpful support team
Seamless integration (Google Ads and Analytics, HubSpot, and Salesforce)
Highly customizable
Cons
Difficulties to maintain several websites
Difficult to navigate due to a big number of options availablel
Hard to reach customer support outside of US
CallTrackingMetrics is a digital marketing platform designed to provide data on your customers. Since 1921, CallTracking Metrics have grown to become industry pioneers by providing marketers with data. Companies like The Washington Post, Verizon Connect and ServiceMaster rely on CTM to handle their content marketing
CTM provides a range of solutions, from anticipating the best solutions for businesses, agencies, and contact centers to measuring & analyzing a call. When clients team up with CTM they also get the opportunity to track calls and accurately measure results
Small, startup-sized business are the perfect fit for CallTrackingMetrics. Around 80% of our customers are small companies with less than 50 employees and 19% represent the healthcare industry. Most of these businesses (90%) are in North America.
1. CallTrackingMetrics.com: price score. Find the best price
When looking at call tracking solutions, the price is not always the most important factor. Generally speaking, if you have a small or mid-sized company, determining your budget upfront will usually determine how far down in quality you should go.
| | | | | | |
| --- | --- | --- | --- | --- | --- |
| Top call tracking solutions | Calltracking metrics | VS | Callrail | VS | Phonexa |
| Inbound Call(per minute) | $0.27 | VS | $0.05 | VS | $0.03 |
| Outbound Call(per minute) | $0.29 | VS | $0.05 | VS | $0.03 |
| Phone Number(per line) | $1.50 | VS | $3.00 | VS | $1.50 |
| Voicemail(per minute) | $0.002 | VS | $0.03 | VS | $0.01 |
| Min price(per month) | $39.00 | VS | $45.00 | VS | $100.00 |
Comparing top call tracking providers, one thing becomes clear: CallTrackingMetricks is the absolute winner in two out of five categories. The low monthly plan rates with a discount for an annual pre-paid option, as well as the $1.50 charge for new phone numbers cannot be denied.
2. CallTrackingMetrics.com: meta rating. Check what people say about CallTrackingMetrics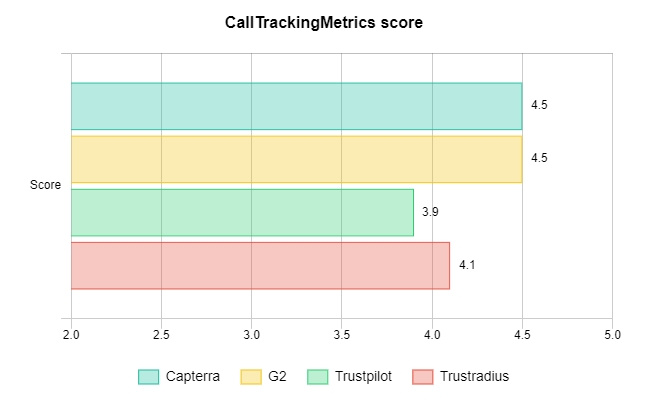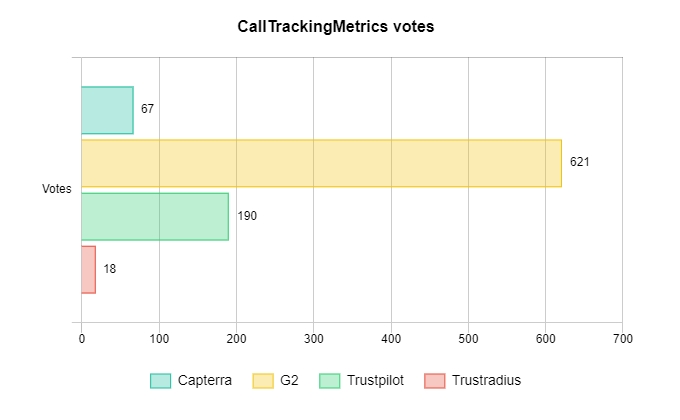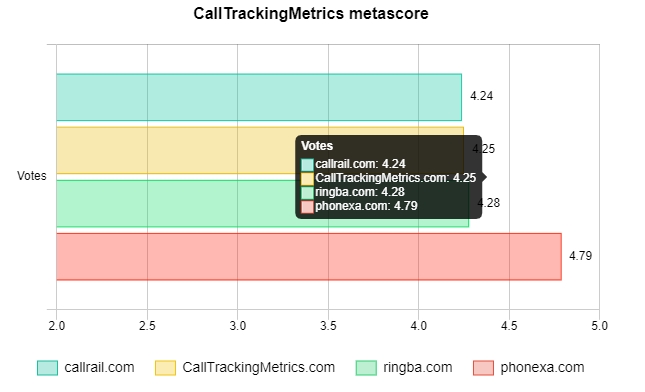 Now in the 21st century, people are trying to digitize everything they can. Every online consumer is already used to reading reviews before deciding on a product and perhaps even leaving a personal opinion after purchasing it. That is why having reviews available online is so important for businesses who want build trust with their customers. Office phone systems are complicated, and when you use them for the purposes of spying on others, it can be even more complicated. A lot of time money goes into improving your office and if you're not happy with your current provider, finding a new one is harder than you might think. That's why it's so important to provide an excellent service. Our company keeps working hard and makes sure that our clients are satisfied.
3. CallTrackingMetrics.com: features and integrations
The best part of the CallTrackingMetrics software is that it tracks all types of customer contact in addition to phone calls. The system records texts, chats, form submissions, and calls throughout multi-channel attribution to assign a personal tracking number to each customer. This number is then linked to the marketing campaign responding to them.So, one could exclude or alter the campaigns which weren't working effectively. And focus on those that were driving conversion.
With call automation, communications will be much easier. Your team can focus on working on new campaigns and improving your old ones without using their time on logging calls or manually following up with contacts. The customers want to interact with brands on the go and share data with other brands. And this is exactly what Apple and Spotify are doing: they have introduced a new way of doing business where they are getting rid of barriers like apps, accounts, and queries. Two different worlds come together – public audience and advertisers.
We help you measure your Google Ads and Analytics, HubSpot, Salesforce, and many more platform integrations to detect the most successful campaigns that attract a high number of leads. Such data gives marketers valuable guidance on developing further targeted strategies.
4. CallTrackingMetrics.com: market share and growth trends
It's clear that the global market is changing at a fast pace. There are many factors causing this and it won't be slowing down anytime soon. The call tracking software industry has seen these changes and will continue to evolve as time goes on. There has been a significant change in technology and the global market. For this reason, it's important for businesses to keep up with the current trends in order to be successful.
CallTrackingMetrics and Invoca have been working together to improve the marketing strategies. The collaboration has led to a high number of leads being generated this year alone.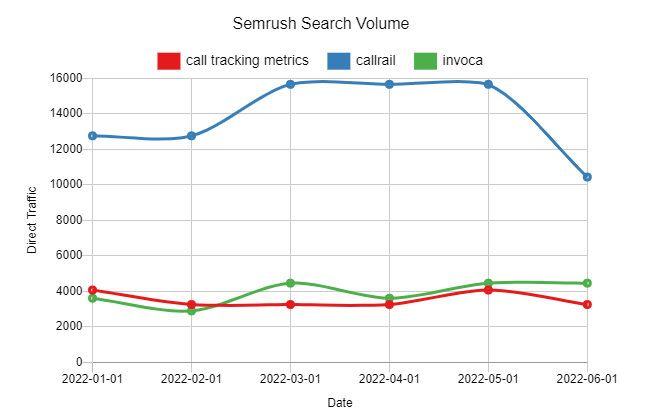 5. CallTrackingMetrics.com: similar solutions
There are many call tracking companies all around the world, each offering a variety of different solutions for businesses. Whether you need phone tracking, management or optimization, there will be a company to help meet your needs and goals. CallTrackingMetrics' devotion to detail, years of experience and expert knowledge have positioned it as the industry leader.
Can I change plans after I sign up?
Yes, you can change plans at any time and either upgrade or downgrade. If you switch plans in the middle of a billing cycle, your payment will be prorated to account for the time remaining on your prior plan.
How do you bill me?
Your credit card will be entered when you register your account or, if you select the beginner plan, it will be entered when you want to buy numbers. Your credit card will be used to pay the first month's software charge as well as to fill your CTM available balance (if applicable). Your numbers, minutes, monthly software cost (if applicable), and any other premium services you choose to enable are funded by the available balance, which functions similarly to a bank. You can instruct us to use your credit card to automatically replenish your account when it goes below a predetermined amount. For instance, if you set your recharge amount to $50, your account will be automatically topped off with $50 if it drops below that amount.
Where can I forward my calls?
In more than 90 nations worldwide, you can forward your tracking numbers to one or more receiving numbers in a variety of configurations. Using our browser-based softphone, you can forward to your office line, desk phone, cell phone, SIP endpoint, or a computer. You may set them up to sequentially ring, which will ring one after the other, or you can have them all ring at once. We also provide a wide variety of different ringing options, including call queues, geographic routing, and IVR routing.
CallTrackingMetrics call tracking review FAQ
What is pros and cons of CallTrackingMetrics call tracking review
CallTrackingMetrics call tracking review Pros:
Easy to deploy
Knowledgeable and helpful support team
Seamless integration (Google Ads and Analytics, HubSpot, and Salesforce)
Highly customizable
CallTrackingMetrics call tracking review Cons:
Difficulties to maintain several websites
Difficult to navigate due to a big number of options availablel
Hard to reach customer support outside of US
What is average rating of CallTrackingMetrics call tracking review
Average rating is 4.5 based on next metrics: Customer service: 5, Customer support: 4, Lead attribution: 4, Tracking numbers: 5