One of the major problems facing modern firms is pinpointing precisely which marketing methods are beneficial and where adjustments need to be made. ActiveDEMAND made the decision to solve it on the fly.
The massively popular ActiveDEMAND marketing automation platform is one of the company's main products. It was developed by ActiveDEMAND, a Canadian business with offices in Calgary, Alberta, and Edmonton as well as clients from all over the world. The goal of ActiveDEMAND when it first started as a digital marketing company was to provide a contemporary toolbox for the multi-client marketer. Despite the fact that ActiveDEMAND's conception started to take shape in 2005, its official release didn't occur until 2012. The company's founders have created a variety of tools and systems since 2002 to effectively sell goods and services as well as to bridge the gap between marketing and sales.
ActiveDEMAND.com: Price Score
A contact database, newsletter campaigns, social media post schedules, autoresponders, and thorough reporting and analytics are all included in the call tracking package, which has a starting price of $0.
Top call tracking solutions
Calltracking metrics
VS
Callrail
VS
ActiveDEMAND
Inbound Call
(per minute)
$0.27
VS
$0.05
VS
X
Outbound Call(per minute)
$0.29
VS
$0.05
VS
X
Phone Number(per line)
$1.50
VS
$3.00
VS
X
Voicemail(per minute)
$0.002
VS
$0.003
VS
X
Min price(per month)
$39.00
VS
$45.00
VS
$0
Other packages from ActiveDEMAND include with all the call tracking tools as well as a few more sophisticated ones. The $15 Email Marketer package also includes a capability for tracking and reporting website visitors. A large variety of capabilities are included in the $69/month Small Business Marketer plan. The Corporate Marketer bundle will work best for firms who wish to have all features included and multiple user accounts.
ActiveDEMAND.com: Meta Rating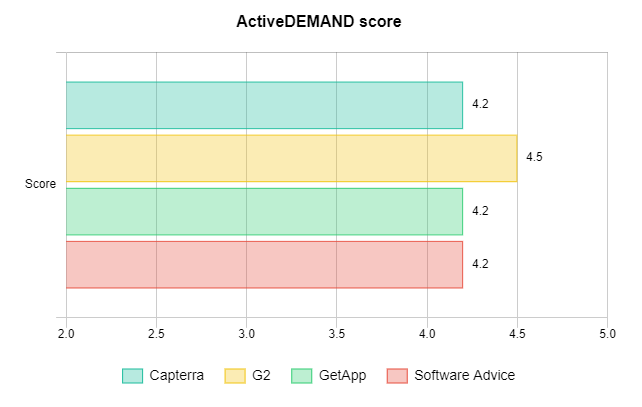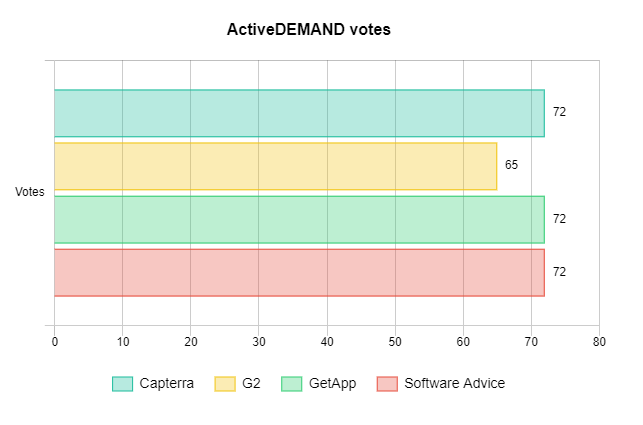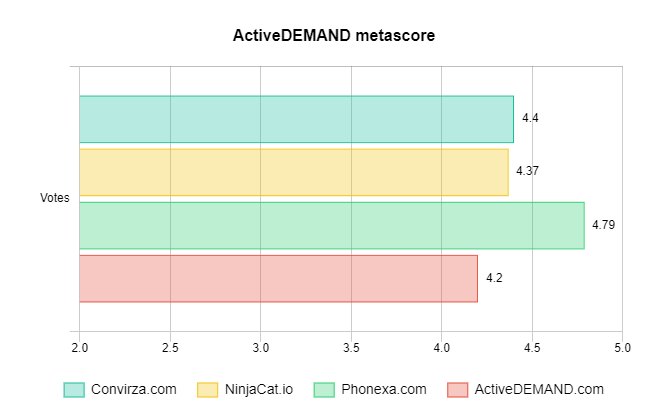 ActiveDEMAND's primary substitutes and rivals are Phonexa, Convirza, and NinjaCat. Because it is based on a solid marketing automation basis and provides a far more complete and robust solution, ActiveDEMAND frequently stands out among competitors.
ActiveDEMAND.com: Features and Integrations
ActiveDEMAND enables more successful marketing activities with its vast toolkit. Users can easily promote their businesses thanks to features like email marketing, custom forms, and drag-and-drop design tools that make it simple to construct branded landing pages.
Email Marketing
Dynamic Website Content
Web Form Builder
Landing Page Builder
Appointment Scheduling
Workflow Automation
Custom Marketing Dashboards
Automated Reports
Companies are able to create automated programs that maximize lead conversion rates thanks to call tracking and messaging support tools. The system is also completely integrated with several well-known CRM platforms. The application allows users to go further into operational data with a reporting dashboard that tracks several KPIs, including social media analytics, ROI tracking, and website visitor tracking.
Value Add Integrations
Collaboration Integrations
Ad Retargeting Integrations
Calendar / Email Integrations
CRM Integrations
E-commerce
Social Integrations
Application Integrations

ActiveDEMAND.com: Market Share and Growth Trends
Currently, ActiveDEMAND provides services to roughly 1201 businesses, with 57% of them based in the United States, 23% in Canada, and the remainder in Europe and Australia. When the consumers are broken down by industry, the hospital and health care sector accounts for 24% of them. Medical practices account for 10%, marketing & advertising for 7%, and construction for 5%.
A little more than 85% of businesses using ActiveDEMAND are small businesses with annual revenues under $50M. There are just roughly 300 significant businesses with annual revenues exceeding $1 billion.
Overall, ActiveDemand holds a 0.15 percent market share in the marketing automation sector. HubSpot, Marketo, and Pardot are the top rivals in this industry.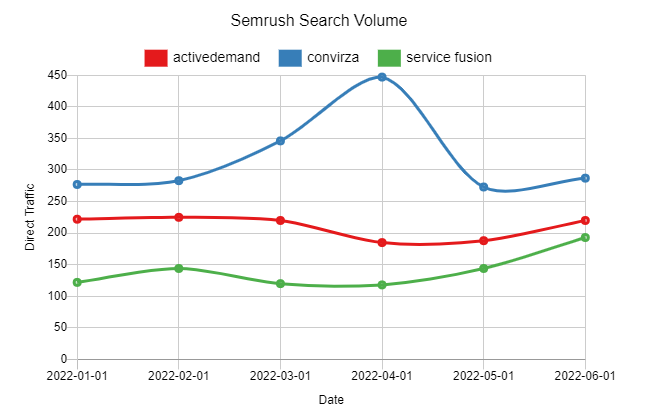 ActiveDEMAND.com: Similar Solutions
To communicate with and keep track of prospects, use the integrated, comprehensive call tracking feature. Additionally, you may accomplish more by using the integrated social media tools, landing pages, and email templates. Using automated marketing, you can convert leads and prospects into devoted customers by managing nurturing campaigns, auto-replies, and more. Effective newsletters, one-of-a-kind promotions, and more can help you keep customers and grow your repeat business.
ActiveDEMAND call tracking review FAQ
What is pros and cons of ActiveDEMAND call tracking review
ActiveDEMAND call tracking review Pros:
ActiveDEMAND call tracking review Cons:
What is average rating of ActiveDEMAND call tracking review
Average rating is 4.25 based on next metrics: Customer service: 4, Customer support: 4, Lead attribution: 4, Tracking numbers: 5