Pros
Intuitive UI
Instant chat support
A lot of lead information is accessible
Cons
A bit unclear reporting documentation
Setting up certain features might be challenging
Some tracking numbers often receive spam calls
WhatConverts offers the perfect call tracking system for agencies and small businesses. Cloud-based, fast easy to set up, WhatConverts is a promising alternative.
WhatConverts is a marketing automation platform with everything you need and even more. It doesn't just provide call tracking, lead management, or reporting tools – it brings all of your marketing efforts together on one single dashboard. That way you can easily navigate and find the necessary info.
1. WhatConverts.com: price score. Find the best price
Whatconverts offers 3 levels of pricing plans for its customers. The ¨Plus Plan¨ at $30 offers:
Forms, calls, and chat tracking.
Dynamic number insertion.
Different kinds of recording, reporting, and analytics, as well as a high range of integrations.
| | | | | | |
| --- | --- | --- | --- | --- | --- |
| Top call tracking solutions | WhatConverts | VS | Ringba | VS | Callrail |
| Inbound Call(per minute) | $0.05 | VS | $0.05 | VS | $0.05 |
| Outbound Call(per minute) | $0.05 | VS | $0.05 | VS | $0.05 |
| Phone Number(per line) | $2.50 | VS | $3.00 | VS | $3.00 |
| Voicemail(per minute) | $0.002 | VS | $0.003 | VS | $0.001 |
| Min price(per month) | $30.00 | VS | $99.00 | VS | $45.00 |
"Pro Plan" offers a great deal of customisability and is perfect for companies that need it. The is cost effective and has additional features including HIPPA business schedule reports. It's also perfect for marketing agencies or those that want to focus on clarity above all else
2. WhatConverts.com: meta rating. Check what people say about WhatConverts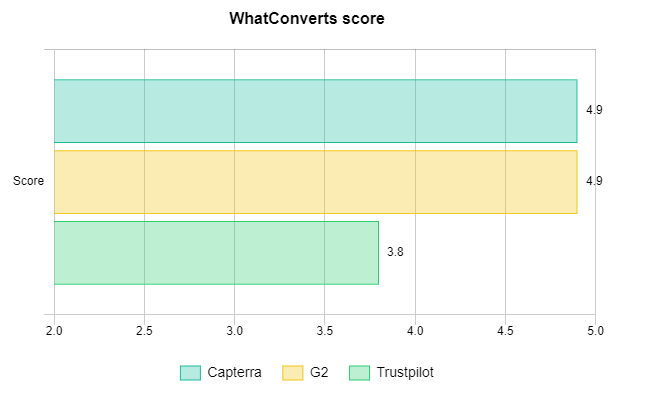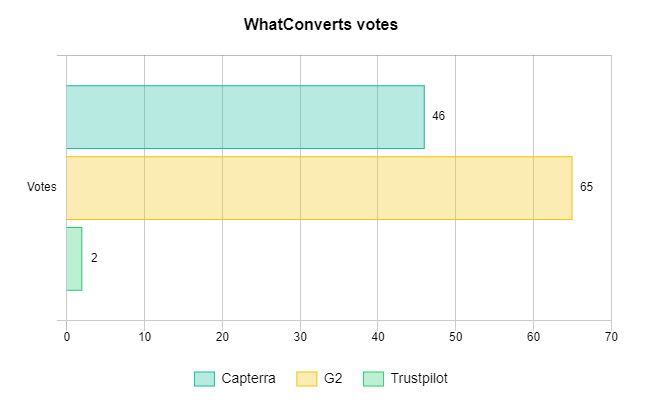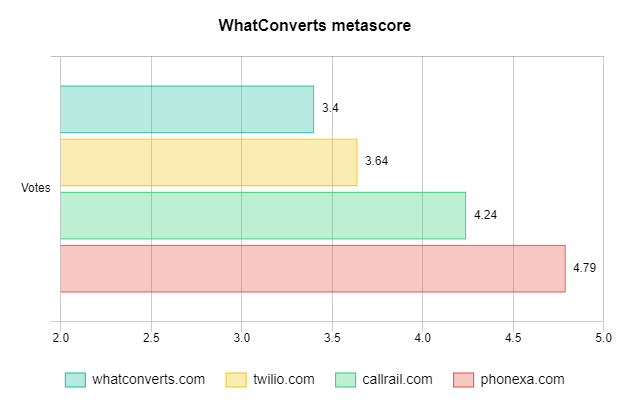 When comparing WhatConverts to other call tracking providers, they have all the strength and potential to be competitive with some of the best models in the industry, such as Callrail, Phonexa, and Twilio. It might not be a top contender yet, but it's definitely worth considering as an element of your business strategy. Capterra and G2 think WhatConverts is the best online marketing tool out there with a 4.9 point rating- which should make you consider using this option for your website.
3. WhatConverts.com: features and integrations
Our WhatConverts CRM has just about every possible tracking feature you could think of, and they are all designed to help you grow your business. Features like call tracking, chat, and form tracking ensure that there is no stopping you from making a successful sale.
A successful lead management system will segment the customers based on their preferences, to give more profound insights into what attracts them. You can quickly transfer the potential conversions to CRM and delete junk leads.
Note down which campaign was the last one people clicked on, as well as which keyword triggered their purchase. It will help you to figure out where your problems are coming from. Based on this, marketers will be able to receive simple but informative reports which they can customize and send out when they need them. They can also save or schedule these reports for future use. Inline with an analytics data, insight tools can determine which strategies deliver the best ROI and share it with the whole team using CRM.
4. WhatConverts.com: market share and growth trends
Now, over 3.500 companies are using WhatConverts as part of their everyday dynamic plan and, according to the infographic, this number is set to increase in the future. WhatConverst is used by small businesses with 10-50 employees and annual revenue of 1 million-10 million in Hospital Healthcare. It's one of the most distributed types of business in the country, making it easy to find.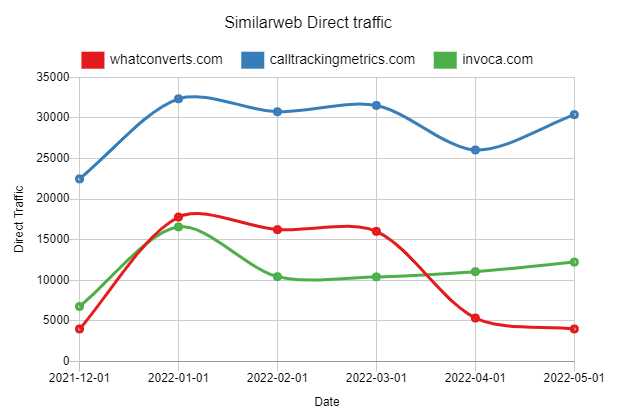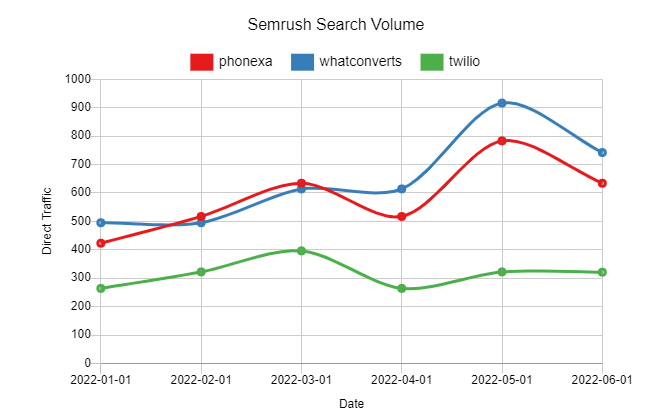 5. WhatConverts.com: similar solutions
WhatConverts is the go-to company for businesses who need to collect customer data. This data is then used by the marketing team in order to provide high-quality services.
Can I Choose to Not Swap a Phone Number on my Site?
There are a variety of reasons why you, as the owner of a website, might not want a particular number to change on your page. Include the class "no-swap" on the HTML element containing the phone number to stop WhatConverts from changing the number. The phone number that you don't want to change will be in bold on your website.
Why am I not Seeing Phone Call Conversions in Google Ads?
The most frequent reasons for phone conversions not appearing in Google Ads are: Your tracking numbers from WhatConverts are not part of a dynamic number pool. In Google Ads, auto-tagging is not enabled. Your Google Ads account does not currently have our tracking template added. Your Google Ads account and WhatConverts are not connected.
What is First Click Attribution?
Illustrations of First Click Attribution Using First Party Data On May 1st, a user finds your website through a Google Organic search while looking into a product you sell. Through a Facebook Remarketing campaign, people return to your website on May 15 after two weeks have passed. One of your tracking numbers is called by them. Because the consumer arrived at your website via Google Organic, the call will be recorded as a Google Organic lead. When a user clicks on a Google Ads text link, they are directed to one of your dedicated landing pages for paid search traffic. They leave your website but return later that day after discovering your business through a Google Organic search. They dial a number. The lead will be listed as a Google/CPC lead in this instance. The lead will be attributed to all of the initial marketing information that drove the user to your website. The Lead Page will be the page they were on when they made the call, while the Landing Page in your Lead Details will be the sponsored search landing page.
WhatConverts call tracking review FAQ
What is pros and cons of WhatConverts call tracking review
WhatConverts call tracking review Pros:
Intuitive UI
Instant chat support
A lot of lead information is accessible
WhatConverts call tracking review Cons:
A bit unclear reporting documentation
Setting up certain features might be challenging
Some tracking numbers often receive spam calls
What is average rating of WhatConverts call tracking review
Average rating is 4 based on next metrics: Customer service: 4, Customer support: 4, Lead attribution: 4, Tracking numbers: 4