Pros
Easy-to-navigate dashboard
Intuitive UI design
Altogether ease of use
Good price
Responsive and quick support
Cons
Targeted mostly towards US clients
Slow replacement of numbers on the website
Lack of assistance after the initial set up
Limited integration with Google Adwords
CallRail provides a service that businesses really want because it helps to generate more leads and increase customer retention. CallRail's history stretches back to 2005 thanks to founder Andry Powell. As a small online directory, they have changed massively over the years and consistently demonstrated great care & professionalism in this field.
Now more than 200,000 SMBs around the world can benefit from CallRail. In addition to call tracking and lead generation, it offers meaningful conversation intelligence.
Calltrail has been around for a long time and has constantly evolved to provide customers with the best experience. Besides being named one of the "best places to work," it was also featured in Inc.The G2 Crown lists CallRail 5 times. In 2016 they listed them as their 1 ranked business in their overall score.
1.CallRail.com: price score. Find the best price
CallRail has four different call tracking plans to suit businesses' needs and demands. Each plan provides different combinations of products, so prices can be personalized too. Customers can choose between the subscriptions which are all tailored to meet their specific requirements.
| | | | | | |
| --- | --- | --- | --- | --- | --- |
| Top call tracking solutions | CallRail | VS | Calltracking metrics | VS | Ringba |
| Inbound Call(per minute) | $0.05 | VS | $0.27 | VS | $0.05 |
| Outbound Call(per minute) | $0.05 | VS | $0.29 | VS | $0.05 |
| Phone Number(per line) | $3.00 | VS | $1.50 | VS | $3.00 |
| Voicemail(per minute) | $0.003 | VS | $0.002 | VS | $0.001 |
| Min price(per month) | $45.00 | VS | $39.00 | VS | $99.00 |
By choosing CallRail, you'll get one of the lowest inbound and outbound call rates and cheapest monthly subscription rates around. The Call Tracking program with five local numbers and 250 minutes, costing only $45.00, is one of the most affordable options we have at our disposal. It also requires no setup fee and comes with a free trial period.
2.CallRail.com: meta rating. Check what people say about CallRail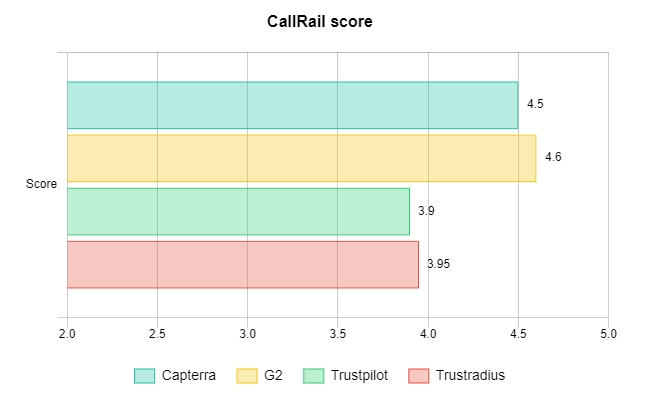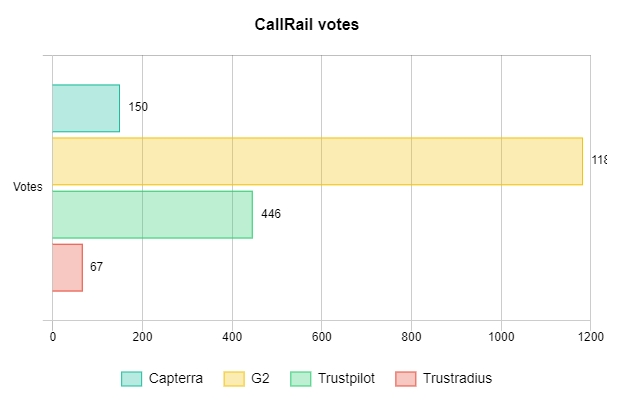 CallRail has been named "Best of the Best" multiple times for good reason. They offer extensive services that can help you out with your customer journey & sales efforts. One of the best ways to judge a software is through its review ratings on various consumer-focused websites.
3. CallRail.com: features and integrations
At CallRail we're proud to help businesses open the gap between offline and online data. With us, you'll know exactly which data sources produce conversions by simply doing clicks. Reports are collected in-house, they're combined and studied. The money is spent wisely and we're improving company's ROI.
We have excellent reporting tools and integration with all of the most popular platforms. You can get all of your data in one dashboard and make better decisions for your business.You can save a company's budget by having campaigns that fail to convert allocate their resources to campaigns that are more successful. This effectively balances out each marketing campaign's click-through rate.
The business monitoring process can help a company see every flaw and make any necessary adjustments to improve effectiveness on an individual level. It also automatically records your calls in order to segment, qualify, and analyze leads. The process also makes progress throughout the organization with each team company.
4. CallRail.com: market share and growth trends
The first step in overcoming the marketing challenge is to monitor every lead, and make sure that your team is able to generate leads while also converting them into customers.As shown on the graphics here and below, CallRail has been and continued to be the leading call tracking software that competes with other major names.
CallRail started the year with a significant advantage over other ad-tracking software and held this advantage until May. To date, it seems like in the Semrush has had their most successful months in March, April, and May of this year. June was a bit unclear but still much more successful than its competitors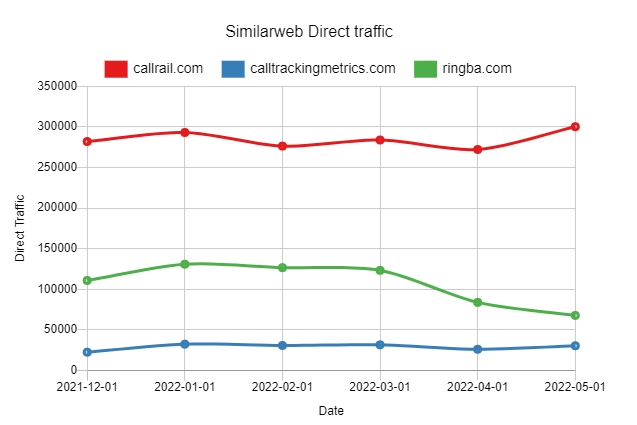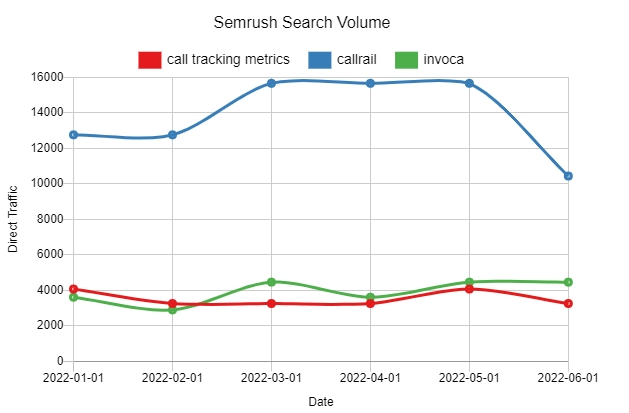 5. CallRail.com: similar solutions
There are many successful call tracking technologies available to you, so it's important that you research before deciding.Based on the input you've given me, it has been much easier to come up with the decision on which software you should choose to avoid any potential problems.
How does CallRail work?
A tracking phone number that forwards to your primary phone number is immediately obtained by us. When one of your clients calls the new tracking number, we forward it to you, and you answer your primary phone as usual. CallRail compiles statistics that you can view in real time online. CallRail doesn't need any specialized training, tools, or upfront money.
How many destination phone numbers can I have in my account?
You are allowed to have an unlimited number of destination phone numbers. Each tracking phone number can be diverted to a different destination number at your discretion.
How many phone numbers can I have in one account?
You may trace as many phone numbers as your company requires with CallRail. For a nominal monthly cost, additional telephone numbers are made available.
CallRail call tracking review FAQ
What is pros and cons of CallRail call tracking review
CallRail call tracking review Pros:
Easy-to-navigate dashboard
Intuitive UI design
Altogether ease of use
Good price
Responsive and quick support
CallRail call tracking review Cons:
Targeted mostly towards US clients
Slow replacement of numbers on the website
Lack of assistance after the initial set up
Limited integration with Google Adwords
What is average rating of CallRail call tracking review
Average rating is 4.75 based on next metrics: Customer service: 5, Customer support: 5, Lead attribution: 4, Tracking numbers: 5