Customers are happier, operators are more productive, and the resolution process moves along more quickly with effective call center administration.
There is much more to enhancing call center operations than just playing pre-recorded messages or having operators read from a script these days because customer expectations are higher than ever. Instead, it's about integrating effective management techniques with cutting-edge call center technology.
The information provided below will help you operate a call center effectively, deal with frequent call center issues, and enhance the general client experience.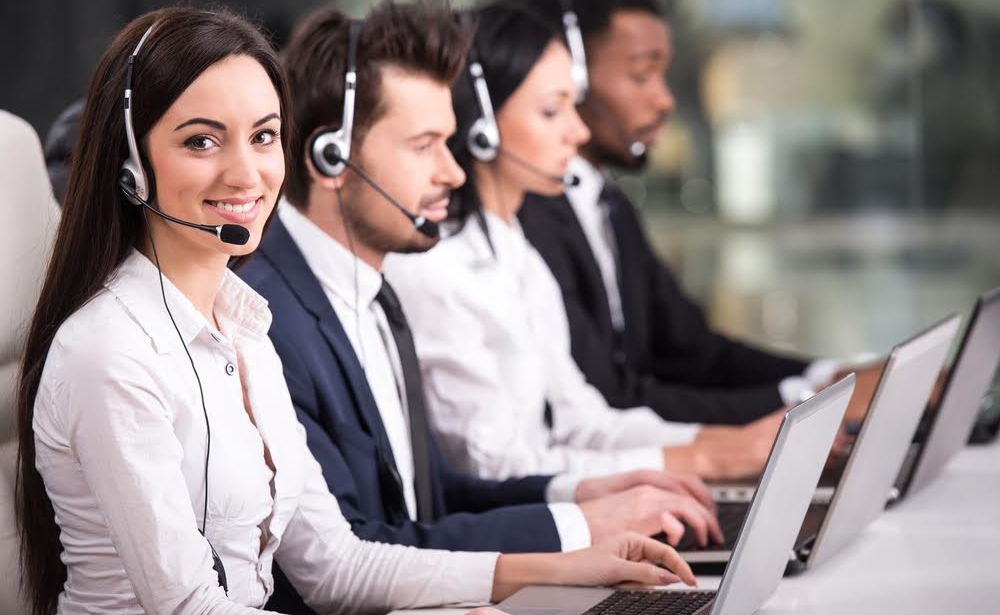 What Is Management of Call Centers?
In order to streamline inbound and outbound communication between call center agents and current customers, potential customers, and each other, supervisors develop, implement, and monitor call center management processes.
Customer happiness is just one aspect of call center management. Making sure agents have the knowledge and resources they need to perform their duties successfully is another important goal.
The following business activities and communications are covered by call center management:
Customer support and technical assistance
Agent education and staff involvement
Management of the workforce and agent scheduling
Management of lead lists and telemarketing
Analysis of historical and current call center data
Call path and call flow design Automation of business processes and customer service
How Do Call Centers Operate?
A call center operates by acting as a hub for incoming and outgoing calls regarding customer care and support, sales, product information, appointment scheduling, and other topics.
Remote, cloud-based, on-premises, inbound, outbound, or mixed call centers are all possible (more detailed information on different call center types is available in this post.)
A call center's objective is to give clients/leads the information they require as soon as possible, whether through live agent interaction or IVR system interaction.
Additional call management capabilities like call routing, call forwarding, call queueing, and more are supplied by call center software to guarantee that any assistance given is pertinent, correct, and personalized.
However, call center management involves more than just using the appropriate technologies. Additionally, it involves efficiently controlling and improving agent performance.
Roles and responsibilities in call centers
A call center that runs smoothly is one where positions and associated tasks are clearly defined.
The table lists and defines the primary roles that may be found in a call center.
Call Center Supervisor
The call center manager is the primary employee (and frequently the call center's owner). Their primary objectives are to assess and satisfy customer expectations and wants, establish performance standards for agents and supervisors and how they will be accomplished, and find ways to raise sales revenue and customer satisfaction levels.
Typical duties of a call center manager include:
Establishing objectives for call center sales and customer service and determining how to assess them.
Making and maintaining training materials for employees.
choosing software for contact centers and other corporate communications (CRM platforms, team collaboration tools, workforce management apps, etc.).
Hiring call center managers and agents.
Examining call center analytics and reporting in the past and present.
Establishing, tracking, and revising call pathways and call routing techniques.
Customer surveys are made.
Creating HR guidelines.
Key abilities for call center managers include:
The capacity to express expectations clearly.
Setting both short-term and long-term goals Understanding the level of consumer and employee involvement today.
Flexibility with relation to objectives, goods and services provided, etc., in light of evolving client demand and employee feedback.
Delegation of work.
Understanding analytics and KPIs to make decisions based on data.
The capacity to acknowledge and value consumers and staff.
Call Center Manager
Call center supervisors work alongside call center agents to train, supervise, and support client interactions. The manager's customer service tactics and their expectations are their key concerns, and they want to make sure that happens.
Typical duties of a call center manager include:
Onboarding and training new employees.
Real-time observation of agent-customer conversations (including listening in, barging in, etc.).
Handling of administrative tasks.
Notifying management of obsolete or inefficient training materials.
Examining call recordings and transcriptions to spot tendencies, then communicating these revelations to higher management.
Scheduling and evaluating individual agent performance.
Key abilities for call center managers include:
Knowledge of call center software on a technical level.
Workforce planning and management.
Knowledge of the information types that should be conveyed to upper management.
The capacity to teach others soft skills (such as communication, active listening, problem-solving, etc.).
The capacity to give managers and staff detailed feedback.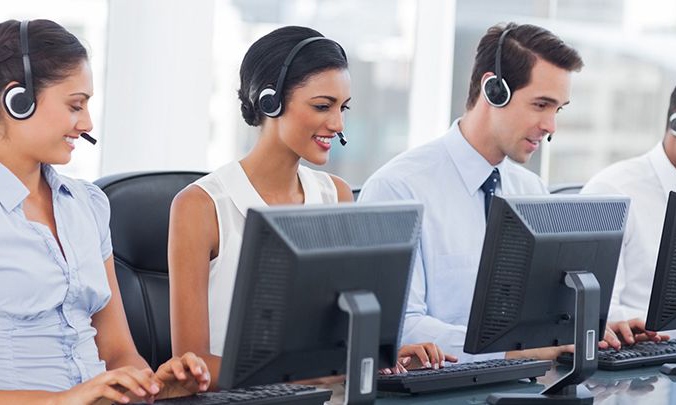 Agent in a call center
A call center agent is a representative who really converses with the caller with the intention of quickly resolving their issue.
They represent the company in person and carry out the directives of the supervisors and managers of the call center.
Typical duties for call center employees include:
Delivering live customer support or technical assistance
Making cold calls for sales or marketing
Appointment confirmation, cancellation, or rescheduling
Taking telephone orders or payments
Providing shipment and order updates
Updating the accounts
Considering client complaints
Gathering feedback from consumer surveys
Choosing the right time to escalate calls
The following are crucial customer care agent skills:
Problem-solving, empathy, and communication
Strong product/service knowledge
The capacity to organize calls and remain composed under duress
Conflict prevention and management
Getting to know customers personally will boost sales and customer retention rates.
Organization
Dos and Don'ts for Effective Call Center Management
The top dos and don'ts of efficient call center management are shown in the table below.
Low customer satisfaction and ineffective customer service
Steps to Take:
Review employee training manuals; incorporate CRM software for quick access to customer information.
Send out customer questionnaires and request more thorough feedback from customers.
Use skills-based routing techniques to match trained agents with clients in need of assistance.
What to Avoid:
Assign blame for issues to specific agents – Ignore the problem.
Rely excessively on contract or outside employees.
Failing to reward staff for their superior job.
Inadequate agent scheduling
Steps to Take:
To improve agent schedules, use workforce management solutions.
To foresee busy seasons, use forecasting analytics
Utilize corporate knowledge bases and pre-written agent scripts to enable additional departmental support during high call volume times.
What to Avoid:
Immediately employ more agents
Failing to prepare in advance for peak call periods
Overwork employees by assigning them long shifts during peak times
Call Quality is Poor
Steps to Take:
Spend money on new equipment such as desk phones, headsets, and microphones.
Boost Internet speed and bandwidth
Seek for VoIP software with background noise suppression features.
What to Avoid:
Use hardware that is unintentionally out-of-date or insufficiently compatible with any call center software you may be employing.
Ignore BYOD, which enables agents to make and receive calls using their own smartphones or PCs, which can have higher audio quality.
You don't evaluate and quantify call quality as you would any other parameter.
Long Customer Queues
Steps to Take:
Employ automated callbacks to provide clients the option of receiving a callback at a time of their choice rather than having to wait online.
Provide clients with more IVR self-service choices.
Seek out call queuing capabilities that offer administrators real-time views into call queues so they may change agent workflow as necessary.
What to Avoid:
Neglect the value of automation in managing repetitive chores
Failing to make advantage of features like visual voicemail, which transcribes voicemails, to enable callback priorities and properly prepare agents for each call.
Fail to follow up with consumers and presume that if something is "truly essential," they will ultimately call back.
Large-scale Call Volumes
Steps to Take:
More agents from different time zones and regions, ensuring there is always someone available.
Inform clients about anticipated wait times.
Utilize workflow automation solutions to speed up the processing of support tickets or gather caller contact details.
What to Avoid:
Ignore the possibility of incorporating new means of communication, such as SMS texting, live chat, social network messaging, and others.
Encourage support discussions to be completed quickly by agents.
Neglect using analytics to evaluate KPIs such as average handling time (AHT) or average call length.
Challenges and Solutions in Call Center Management
The bulk of call center employees work there for about 1-3 years on average, with a turnover rate between 30 and 40%. (For context, the typical turnover rate across industries is between 15 and 18%)
One new agent costs businesses over $6,500 to hire and train, so having a high turnover rate can significantly reduce your revenues.
Frequently cited causes of staff turnover in contact centers include:
Rigid working conditions
Monotonous, uninteresting work
Inadequate payment
Customer abuse and burnout
How to Reduce Agent Turnover in Call Centers
Even though you might not be able to address all the causes of high call center turnover rates, making a few minor adjustments can significantly lower that figure.
Start by making an investment in cloud-based call center software that enables team members to work remotely on any device. According to our study on remote work, allowing staff to work from home can reduce employee turnover by as much as 50%, enhance agent productivity by 15%, and save your business as much as $11,000 annually.
Next, to get rid of a lot of the monotonous labor your agents detest, search for call center solutions that enable enhanced automation. IVR, automated data input, chatbots powered by AI, and even a more extensive online customer support forum can help you avoid having your agents spend the majority of their time on activities that might be done by a machine.
Even little increases in pay rates can have a significant impact on agent retention, even if raising agent salary might be challenging. According to studies, salary increases of $5,000 can result in 15% lower turnover rates. Additionally, managers are prevented from recruiting too many agents while still being able to maximize the ones they already have because to automation, thorough call center analytics, and more precise forecasts.
The largest obstacle here is dealing with employee burnout, but the easiest approach to comprehend agent annoyance is to question your agents directly about what they find frustrating. Perhaps it's a lack of workplace flexibility, shoddy planning, insufficient training, or, of course, nasty and indignant clients.
Later, we'll cover the significance of good employee training in more detail, particularly with regard to retaining consumers. For now, just be aware that gamification and healthy competition can significantly enhance the working environment. In addition to being genuinely enjoyable, gamification is a powerful tool for making sure that workers are fairly acknowledged and rewarded for their efforts.
Last but not least, creating a clear escalation matrix stops agents from helping a customer with their present issue who lack the training or skills, and it enables team members know who they should turn to when dealing with an unhappy customer. Additionally, skills-based call routing assists in connecting clients with knowledgeable employees, thereby lowering the likelihood that the customer would become irate.
The issue: worker absenteeism
When call center workers are unhappy with their jobs, they occasionally just choose not to come to work.
This unfairly burdens the agents who did show up on that particular day, and it can also cost you more than $3,600 year per employee. While a few rotten apples may be beyond your control, if absenteeism becomes a recurring issue, it is your responsibility to take action.
Ways to Reduce Agent Absence
Check to see if any of your staff are skipping shifts on purpose first.
You'll discover that these "unexcused absences" are frequently the result of bad scheduling, a lack of personnel planning, and blatant miscommunication.
Advanced scheduling features provided by workflow management solutions let staff members bid on their preferred shift times, send out automated shift reminders, enable admins to quickly accept PTO requests, and notify staff members and managers if a worker abruptly cancels a shift.
This helps you identify and address days and times when more agents are required. It also makes it much simpler for your call center employees to know when and when they're needed.
Unfortunately, low employee engagement and a lack of a sense of belonging to a team can also contribute to agent absenteeism. The distance and absence of a human connection may feel even worse as call center managers transition to remote and mixed workplaces.
Reminding your agents that they are a part of a team is made easier by team collaboration tools like texting, file sharing and co-editing, whiteboarding, and, of course, face-to-face video chatting apps. Tools for task management also improve planning, encourage staff collaboration, and make it apparent to agents what is expected of them for the day.
Low customer satisfaction rates are the issue.
Unhappy clients are among the most intimidating things for call center managers and agents.
Common consumer grievances and indicators of subpar customer service include:
Connecting with an untrained representative who is unable to assist them with their current problem
Every time they interact with a representative, they are asked to repeat themselves to several representatives.
A drawn-out/protracted resolution process
A long hold period
Not being treated as a priority
The business doesn't value their time
Absence of a request for comments or follow-up
How To Raise Customer Satisfaction Rates In Call Centers
Although it can be tempting to place the blame for dissatisfied customers on specific agents, the truth is that bad management plays a significant role in the low customer satisfaction percentages.
Start by looking at employee training resources if you want to enhance the entire customer experience.
When did you last make an update to them? Do they lack details, are they disorganized, or are they inconsistent? Not only must employee training be current, but it also must be available even after the onboarding process is finished. Create topic-based, on-demand training resources for remote teams that agents may access at any time. Make sure they contain the following:
What-if scenarios for enhancing communication
Phone scripts
Materials for software onboarding training
Elevation chart
Specified goals and expectations
Product and service details
Peer education and agent observation
A description of the criteria for success
You must make sure that consumers are connected to agents who are most likely to be able to solve their problem swiftly in addition to providing them with well-trained reps.
This entails utilizing appropriate call routing tactics for incoming calls, particularly skills-based routing. Create call routing patterns that take into account the employee strengths you have identified using analytics, and then regularly review and update them. Call forwarding to additional agent phone numbers and proper call routing shorten resolution times and maximize agents.
Reduce wait times by using automated callback technologies that let customers pick when they want to speak with a live person again rather than having to wait on hold.
Low employee productivity is the issue
Agents in call centers will work for roughly one-fourth of the day doing…nothing.
It is simple to realize why low call center agent productivity is unpleasant, but far more challenging to comprehend why it is actually occurring and how to address it as soon as possible.
Low call center agent productivity is frequently caused by:
Being unable to locate important information quickly
Recurring interruptions
Numerous missed calls and callbacks
How To Boost Agent Productivity in Call Centers
There are various ways to increase staff productivity without placing an undue load on your agents, in addition to putting some of the ideas we've already discussed in this section into practice.
Implementing call forwarding is the first thing you can do because it prevents agents from having to spend a lot of time waiting at their desks for an important call to finally come in.
If an agent's first phone number is not answered after a certain number of rings, call forwarding automatically transfers incoming calls to other phone numbers for the same agent. If an agent doesn't pick up their desk phone, for instance, the call might be routed to their smartphone, then to their home phone, then to their voicemail box, or perhaps to another agent entirely.
Call forwarding frees team members from worrying about missing a call from a crucial lead or client, especially when combined with real-time notifications for agents.
Next, consider using automatic calling solutions to speed lead list penetration, lengthen agent conversations, and increase overall productivity.
These tools make it unnecessary for agents to physically dial phone numbers, simplifying and speeding up the process of going through lists. By automatically screening out these calls and updating lead lists as necessary, features like voicemail, busy signal, or disconnected number recognition save even more time.
The Issue: Not Understanding The Issue
There's a considerable chance you haven't correctly identified the fundamental cause of the issues at your call center, even if you believe you do, particularly if they haven't improved.
You can be losing out on crucial, game-changing data about your consumers in addition to misunderstanding the general flow of your call center.
How to Spot Call Center Issues
Simply listening in on discussions between agents and customers is one of the best methods to understand call center effectiveness in general.
Call recording and transcription, call whisper, and call barge are just a few of the call monitoring technologies that give managers a wealth of information about popular subjects, the strengths and weaknesses of specific agents, and the areas that require better training materials. Many technologies employ artificial intelligence (AI) to discover popular keywords and phrases and bring them to your attention in the transcripts of these recorded client encounters.
The most recent versions of call center software also include pre-built and editable data and analytical templates on KPIs including call length, call handling time, speak time, call transfers, wait time, and much more.
To have a deeper insight of the recent and prior activity, make sure to look at both historical and real-time call center statistics and data. (In the following section of this article, we'll discuss the precise call center metrics and KPIs supervisors should monitor.)
To have a deeper insight of the recent and prior activity, make sure to look at both historical and real-time call center statistics and data. (In the following section of this article, we'll discuss the precise call center metrics and KPIs supervisors should monitor.)